This article is more than 1 year old
Homefront
Dog eat dog
Set menu
Kaos has, at least, interlaced proceedings with an admittedly decent array of first-person cinematics; burying yourself in a mass grave complete with a corpse's arm drooped across your field of vision being just one such moment. Similar are a number of set-pieces where, for instance, Jacobs will be hurled to the ground or surrounded by flames (again, all in first-person), but these side-shows fail to cover-up what is disappointing handling of the Unreal Engine.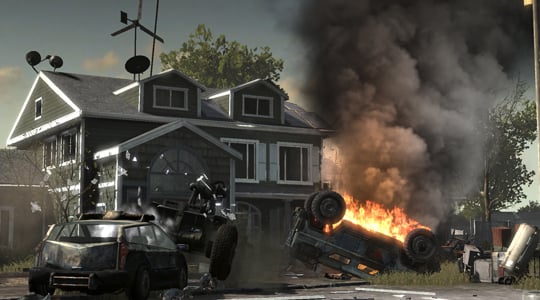 Firing on all cylinders
At least in multiplayer, a levelling-up, vehicle-heavy affair with echoes of Battlefield 2, Homefront offers enough to make itself a viable option. The clever generation of BP (battle points), the currency required to fund purchase of weapons, armour and transportation, earned by racking up kills and assisting in the overall war effort, means you'll see genuine gain for your efforts.
The inclusion of dedicated servers should ensure gameplay remains blessedly lag free too, but whether Homefront is able to capture a strong enough following for its multiplayer to thrive remains to be seen. The thought occurs that THQ might have been better pushing this side of proceedings, much as EA does with Battlefield: Bad Company, rather than hyping the inconsequential solo experience.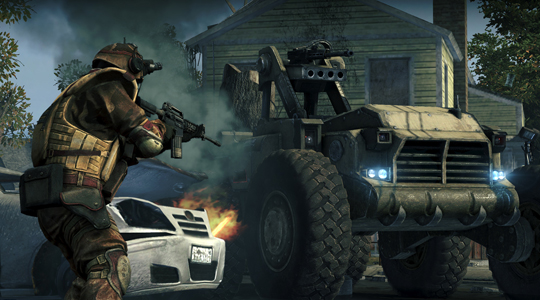 What the truck?
Verdict
Drawing heavy inspiration from the likes of Activision's Call of Duty series, and with rather hefty nods in Half-Life's svelte direction, Homefront is a game of lofty ambitions. However, while just about screaming loud enough to be heard – thanks to an interesting premise and decent multiplayer – it ultimately lacks the required gumption to really stand out in the crowded FPS genre.
More Games Reviews

Killzone 3
Mindjack
Bulletstorm
Dead
Space 2
Mass Effect 2
for PS3

Homefront
'Inflaming US and North Korean tensions since 2011' – like the world doesn't already have enough problems. Available on PS3 (tested), Xbox 360 and PC.