High hopes for hardware
Like other IBM groups, Adkins said that STG would be chasing the top 20 growth markets outside of Western Europe and North America to drive its growth in the next five years. He added that IBM's three other areas - analytics, cloud, and smarter planet - would combine with the growth markets to drive somewhere between 6 to 8 per cent growth in pretax margins from 2010 through 2015. STG had $1.3bn in pretax operating income in 2009, a little over $200m in 2010, and hopes to squeeze out another $600m or so between 2011 and 2015. It will deliver around $2bn in pretax operating margin that year if all goes according to plan.
Where is that profit growth coming from? Look at this: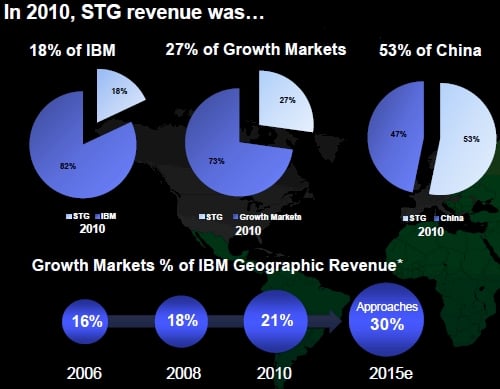 IBM's Systems and Technology Group is making hay in the Middle Kingdom
While STG maked up only 18 per cent of IBM's overall sales in 2010, it was 27 per cent of sales in those top 20 growth markets and a whopping 53 per cent in China. By 2015, Adkins said, IBM expects that 40 per cent of its total revenue for the STG unit will come from these growth markets – which is another way of saying that IBM does not expect much growth in the United States and Europe.
The other little tidbit that Adkins tossed out is that for every dollar in hardware IBM sells, there is an immediate incremental buck in sales of other stuff, such as software and services.
Steve Mills, general manager of the united Systems and Software Group, is easily the most well-spoken of IBM's top execs, and would probably run IBM if Palmisano wanted to – or had to – step down. At Investor Day, he talked a lot about "workload optimized" systems, trying to convey to Wall Street analysts that this was a serious advantage for Big Blue.
But before getting into that, Mills talked about systems software, which is the business he built up over the past decade. Systems and software together accounted for $7.2bn in pretax income for IBM in 2006, and this rose to $10.7bn in 2010. The Software Group, which is still reported as a separate unit, grew revenues from $12.6bn in 2000 to $18.2bn in 2006, then to $22.5bn in 2010. Pretax income for the Software Group rose from $2.8bn in 2000 to $5.5bn in 2006, then to $9.1bn in 2010. The IBM roadmap for 2015 calls for the Software Group to push income up to around $17bn, which will be about half of IBM's overall profits.
So, how is IBM growing the revenues and profits in this software biz?
"We stick to what we are good at," Mills explained. "We understand our competencies and our skills, we extend the portfolio that we have, and we do acquisitions that bear resemblance to what we already know and what we already do. We look for adjacency, connection, synergistic effects, and the lift that we can get in the companies that we acquire because they match up with the skills that we have. We get efficiency of development because of the close connection that we have, and we get efficiency in go to market. And it has driven a tremendous amount of margin expansion for the business."
Workload-optimized or integrated systems are on a lot of minds in the IT racket these days, and Mills, who is a mainframe guy, predictably referred to the System/360 mainframe as a "very workload-optimized system." He also boasted that IBM has had 45 years of experience dealing with "sophisticated commercial workloads."
That's a bit of a stretch, of course, especially considering that the whole point of the System/360 family was that they were general-purpose machines capable of running the same COBOL applications, VSAM and IMS databases, and CICS transaction monitors.
"We follow an iterative design," said Mills, explaining IBM's current system-design process. "As hard as we work on aspects of physics and material science, we know that's clearly not enough to deliver leading-edge systems for our customers. We need to think about what work they are trying to get done and how we can take best advantage of our knowledge and bring together a combination of hardware and software to deliver better systems."
And so, bragged Mills, the big iron in IBM's Power7 systems lineup, the Power 795, not only has more performance per core, four times the cores, and eight times the threads of its predecessor, but it also has thirteen times the memory bandwidth of a big Sparc Enterprise M box from Oracle/Fujitsu, and three times that of the biggest Xeon 7500-based systems on the market today, including those from IBM. Also, the Power 795 is designed to run at 90 per cent or higher of total CPU capacity – sustained, not a short-burst peak – with a system availability of 99.9997 per cent uptime.
"The only system that is more reliable than this system is the IBM System z mainframe," Mills said. "That's it. No one else builds a system design to this level of availability, and nobody builds a system that runs at 90 per cent and can sustain it. Unheard of in the RISC/Unix marketplace and not possible in the Intel space for commercial workloads."
Plenty of other server makers may contend that this is an exaggeration at best or a lie at worst, but it is certainly no different from the kinds of bold proclamations that Sun Microsystems used to throw around, and that Oracle now spouts in their announcements.
Similar topics