Windows 7 Windows 7 may be prettier than XP; but does it really pay to ditch a working Windows XP network and replace it with Microsoft's shiny new version?
Every organisation is different, so there is no definitive answer, and migration is costly. That said, sticking with XP has costs as well. It is coming up to ten years old, and despite three service packs it is now showing its age. XP fails to take full advantage of today's hardware in areas such as power management, graphics and multimedia.
We are also beginning to see significant applications that do not work on XP, like Microsoft's forthcoming Internet Explorer 9. Support is another issue, with Microsoft set to end extended support in April 2014.
More positively, there are real improvements in Windows 7. There are historical reasons why it is Microsoft's best effort since XP. The company expended much energy attempting to make XP secure with Windows XP Service Pack 2, and then in building Windows Vista.
Multiple setbacks made Vista a rushed job, despite long delays, and there were performance, usability and compatibility issues with the final release. Nevertheless, the architectural changes in Vista were sound, which meant that for Windows 7 Microsoft could concentrate on optimising performance and fixing the user interface.
There are also many changes on the admin side. The Window Imaging Format (.wim) was introduced for Windows Vista and enables a standard build to be deployed across different hardware. It is also easier to maintain when changes are needed, which makes maintaining a Windows 7 network less costly. Group Policy for Windows 7, in combination with Server 2008, has many new settings.
Some features bundled into Windows 7 would otherwise require third party tools, especially in the Enterprise edition. Bitlocker, also available in Vista, enables you to encrypt the entire hard drive, while Bitlocker, in Windows 7 only, lets you encrypt removable storage such as USB memory sticks.
Direct Access, which requires Windows 7 and at least one instance of Server 2008 R2, lets users connect to file shares across the internet and without VPN. This is lighter weight and less risky than VPN, which gives all or nothing remote access.
AppLocker, another Enterprise edition feature, is a means of restricting which applications are allowed to execute. It is tricky to configure but generally more effective than the old Software Restriction Policies.
Usability and support
Microsoft claims that its own internal help desk received 42 per cent fewer operating system support calls after the deployment of Windows 7. There is no guarantee that it will do the same in other contexts, but there are reasons to be optimistic. Windows 7 is more resilient than earlier versions, detecting and blocking many incompatible applications, and correctly installing device drivers for new hardware.
When support is needed, Remote Assistance in Windows 7 is easier for non-technical users to enable, and more resilient than in earlier versions of Window. The Reliability Monitor shows major system events and application failures in a chart, making some problems quick to identify.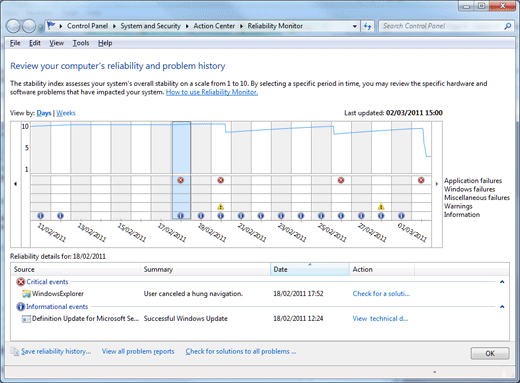 The biggest usability feature of Windows 7 is the taskbar, which both shows running applications and enables users to launch them. A related feature is thumbnail previews, which give users visual information when selecting between running instances, just by using the mouse.
This is quicker and more intuitive than cycling through applications with Alt-Tab. A related feature is called Jump Lists, raised by right-clicking a taskbar icon, which shows recently opened documents as well as custom shortcuts for the specific application selected.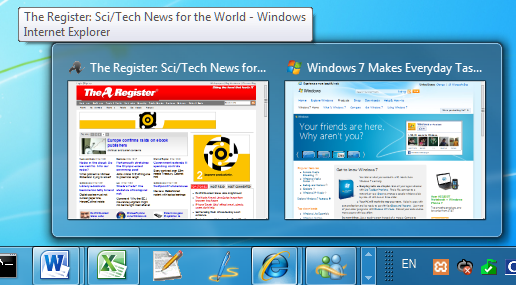 An operating system can be more or less than the sum of its parts though. In the case of Vista, users disliked it despite a long list of supposed improvements. In the case of Windows 7, users tend to like it, perhaps in response to Microsoft's efforts to make the system quieter and less annoying.
It is also more responsive, and while not immune to those mysterious, aggravating pauses that characterise Windows, version 7 is a marked improvement. This does translate to higher productivity.
Quantifying the benefits
How do you quantity the costs and benefits of Windows 7 migration and make a business case? There are tools available, such as one developed by Hall Consulting, which attempt to measure this.
That said, it will never be an exact science. One factor is the extent to which an organisation has embraced Microsoft's platform. If the direction is towards thin clients and web applications, the local operating system is less important and maybe XP will do for a few more years.
On the other hand, if there is Office, Exchange, SharePoint and other Microsoft technologies, both users and administrators will find they run more smoothly with Windows 7, and that XP is approaching the end of its useful life. ®