This article is more than 1 year old
Pure Contour DAB/FM and Internet radio
The do it all dock?
Review The Contour is an elegantly designed music hub from radio specialist Pure. It features DAB+,FM and Internet radios, as well as an iPod dock in a slide-out drawer.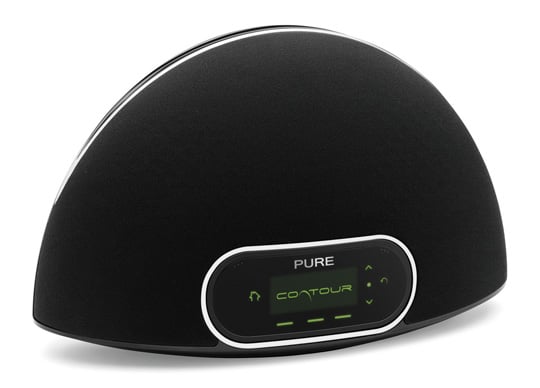 Dark side of the moon: Pure's Contour
You may be forgiven for thinking the Contour bears some similarity to the company's Twilight alarm clock radio, with its half-moon shape, but given its size, those with longer memories may liken it more to the £1000+ Meridian F80.
There's no sign of the Twilight's gently glowing dome this time round though, just a touch-sensitive strip of backlit icons running around the top that control power, volume up/down and mute. Usefully, you can switch on or off simply by tapping this icon bar. Not so usefully, my sample's self-styled energy saving feature meant it kept trying to turn itself off, even when I was just adjusting the volume. Pure insists it's not meant to do this.
The Contour measures a kitchen-friendly 37 x 22 x 18cm, comes in matt black and includes a pair of 3.5in full-range drivers. Around the back are 3.5mm headphone and aux jacks, as well as composite and component video outs and a mini USB connection for future software updates. The latter can also be performed using the Contour's Wi-Fi connectivity. The extendable aerial is used for FM reception.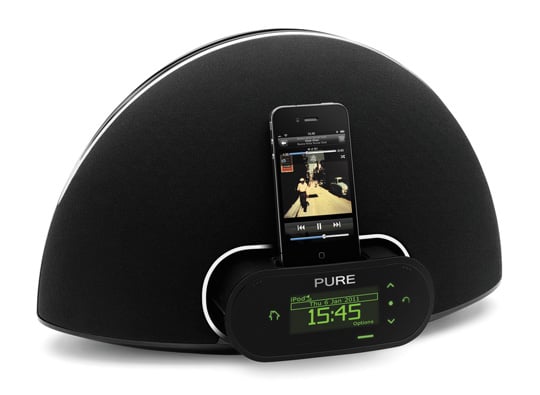 Press to play
The dock slides out smoothly when you push the sides of the front display to reveal a sturdy plastic base for your iPod, which when in place, rests against the speaker grille.