This article is more than 1 year old
Pure Contour DAB/FM and Internet radio
The do it all dock?
Fingering the menu
The four-line LCD display on the front uses that easy-on-the-eyes green seen on previous Pure devices. The responsiveness of the touch-sensitive buttons next to the display isn't great, and I found it all too easy to overshoot the mark when scrolling through menus for source, radio stations and music lists.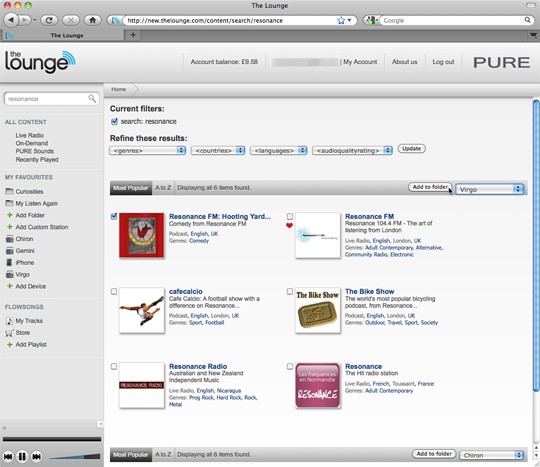 The Pure Lounge simplifies creating a Favourites list that can be applied to connected radios
Click for a larger image
If you come across a track you really like, there's also the option to buy it through your radio using Pure's Flow music identification function, which works in a similar fashion to Shazam, but connects to Pure's own music store.
Alas, the menu system isn't always as intuitive as it might be. Depending on which bit you're in, the back button doesn't always work, and you need to switch to the up and down arrows, which takes a bit of getting used to. In general, it proved more effective to use the controls on the ergonomically styled remote, which sports a well-laid out series of buttons with handy functions like shuffle and marking your favourites.
The sound from the twin 3.5in speakers with their downward-firing bass ports is rather impressive in its fullness, with well-controlled bass that never distorted even at the system's highest volume – they're capable of pumping out a respectable 36 watts between them.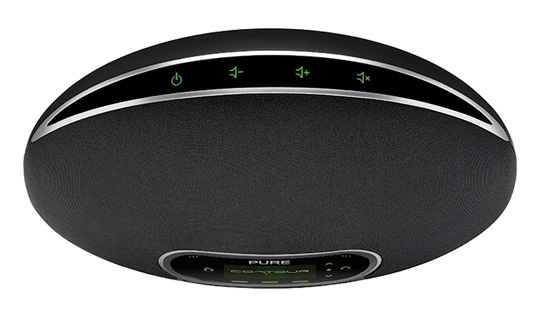 The touch-sensitive switching has a mind of its own at times
That said, don't expect exceptional audio fidelity, it's not the most detailed sounding system in the world, but it does pack a decent punch, and basically does what it's intended for – belting out compressed audio files whether they're coming from your iPod, computer, or on-line from around the world.