This article is more than 1 year old
Converting between backup formats is possible after all
Our storage man sustains moderate gast to the flabber
Comment I had always thought it was impossible to convert files from one backup format to another: to migrate files from Symantec NetBackup to HP DataProtector, for example. But actually, you can. A new product from Butterfly Software does exactly that.
Butterfly Software is based in Maidenhead in the UK and I'm only going on what the company tells me. It has supplied a table (see image below) showing actual and road-mapped source backup environments and target products.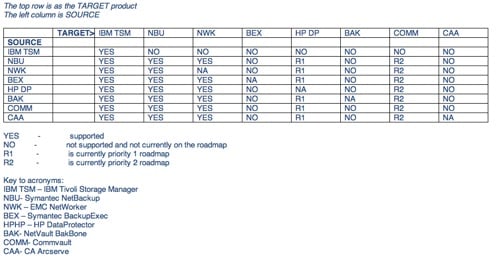 Butterfly Software backup format conversion table.
The source environments include IBM Tivoli Storage Manager, NetBackup, Backup Exec and CA Arcserve. The targets include the same products, but that doesn't mean you can necessarily migrate files from Tivoli Storage Manager to Arcserve using the software – you can't.
No CommVault or Acronis backup products are supported, although CommVault is on the roadmap.
We hope to have a closer look at the product at some stage, but at least now it seems that if you have a pressing backup migration need, there is somewhere you can go. ®