Dell takes x64 micro servers mainstream
Vikings to conquer dedicated hosting, content streaming
Dell is taking its micro servers, which it first created on a custom basis for dedicated hosters last year, mainstream in the PowerEdge-C line of machines.
Micro servers, according to the definition espoused by Dell and Intel alike, are usually based on a single processor socket, have minimal memory, little or no virtualization, and are intended to lightweight workloads like dedicated Web hosting and multimedia streaming where having multiple machines running at a higher utilization in very dense packaging is more important that raw CPU oomph or main memory footprint.
Dell's original micro servers, known by the code-name "Fortuna," were created by its Data Center Solutions bespoke server unit for a French hosting provider that needed cheap but distinct boxes to offer a low-priced dedicated hosting. Using the smallest general purpose PowerEdge rack servers from Dell, this hoster could offer hosting for €30 per month, but the company came to Dell to try to cut that number in half. The French hoster figured dedicated hosting for €15 per month would allow it to undercut its rivals, boost its customer base, and upsell to bigger servers. And so the company came up with a micro server design that crammed a dozen baby servers based on VIA Technologies' Nano x64 processors into a 2U tray chassis.
Last September, DCS took a second stab at the micro server, launching a 3U shared power chassis named "Viking" and vertical "sled" servers named "Dragon". Those sled servers put a single Intel Xeon 3400 series processor and four memory slots on a baby motherboard, plus connectivity to four disk drives and external power for the whole sled.
Because these were both DCS products, they were only aimed at the largest three dozen data center operators in the world, not for the next several thousand smaller data center operators who might benefit from micro servers. You can only get DCS products through a custom engagement. The PowerEdge-C machines launching today don't quite go all the way to mainstream, but they are as close as Dell is going to get.
And, unlike prior PowerEdge-C machines, these two micro servers will be available for sale through Dell's online store. And the goal, says Barton George, cloud computing and scale-out evangelist at Dell, is to get all of the PowerEdge-C boxes up there for online purchase in the next month or so.
There are two new PowerEdge-C micro servers that are debuting today. Both make use of the existing C5000 Viking chassis and have modified Dragon sleds that slide into them.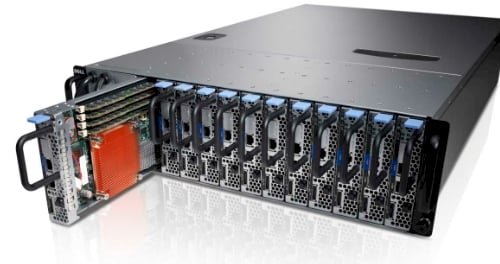 The Dell PowerEdge C5000 "Viking" chassis
The PowerEdge C5125 crams a dozen sleds vertically into the chassis that are based on Athlon II X2 and X4 and Phenom II X4 processors from Advanced Micro Devices. Dell is supporting the 25 watt, 45 watt, and 65 watt variants of these chips, according to George.
The C5125 uses the SR5650/SP5100 chipset from AMD, of course, and has four DDR3 main memory slots, as most micro servers thus far seem to. Dell is supporting 2 GB and 4 GB memory sticks on the C5125, which means main memory maxes out at 16 GB for a dual-core or quad-core processor. The server board has an embedded dual-port Gigabit Ethernet controller and has four SATA ports. Dell is supporting four 2.5-inch or two 3.5-inch SATA disks on the sled as well as 160 GB solid state disks if you want to go that route. The Viking chassis has two hot plug power supplies rated at 1,400 watts with a 92 per cent efficiency rating.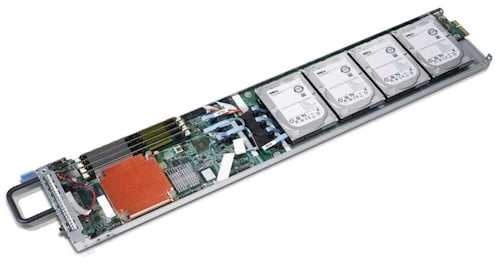 The Dell PowerEdge C5125 micro server
The PowerEdge C5125 is certified to run two hypervisors at this time (not that customers are expected to use them), including Microsoft's Hyper-V and Citrix Systems' XenServer 5.6. Windows Server 2008 R2 Enterprise x64 and Windows HPC Server 2008 R2 x64 are supported operating systems on the AMD-based sleds, as is Novell's SUSE Linux Enterprise Server 11 SP1 and Red Hat's Enterprise Linux 6.
The second PowerEdge-C micro server launching from Dell today is called the C5220, and it is based on Intel's forthcoming "Sandy Bridge" Xeon E3 processors for single-socket servers and workstations. Intel previewed the Xeon E3 chips last week while also talking up the micro server concept. The Xeon E3s are expected to be launched before the end of March, of the scuttlebutt has it right, but Intel has not confirmed a launch date.
The C5220 comes in two different versions, one that is skinny enough to put a dozen in the Viking chassis and another, for hotter processors in the Xeon E3 lineup, that only allow eight sleds into the box. The dual-core and quad-core Xeon E3 chips rated at 65 watts go on the thinner sleds and the dual-core or quad-core Xeon E3s rated at 95 watts go on the fatter sleds.
The Intel-based C5220 sled is based on Intel's "Cougar Point" C204 chipset, the one that had the bug in its SATA ports that divulged on January 31 and that has been subsequently fixed. (This bug pushed out the Xeon E3 launch date by several weeks.)
The Intel board in the micro server has four memory slots, but supports 2 GB, 4 GB, and 8 GB memory sticks, for a maximum of 32 GB. The mobo supports both SAS and SATA disk drives and SATA solid state disks in 2.5-inch or 3.5-inch sizes. The fatter eight-sled version has a single PCI-Express 2.0 x8 mezzanine card slot, which is useful for adding other peripheral cards to the micro server. The C204 chipset also has RAID data protection, and that mezz card can sport an LSI 2008 SAS RAID controller, too.
The PowerEdge C5220 micro server supports the same operating systems as the C5125, but VMware's ESX Server and ESXi 4.1 hypervisors are also certified on this puppy.
Both PowerEdge-C micro servers are expected to be available by the end of April. Pricing will be announced at that time, George says. ®