Duke Nuke goes misogynistic for multiplayer
Gaffes for slaps
As we get closer to the much-anticipated release of Duke Nukem Forever, it's inevitable to be fed more and more details on the game's features.
Today, four DNF multiplayer modes have been revealed: Dukematch, Team Dukematch, Capture the Babe and Hail to the King.
While the 'Dukematch' gamemodes should be self explanatory and 'Hail to the King' is a reworking of classic King of the Hill mode, 'Capture the Babe' comes with a smidgin of controversy.
As you can imagine, it's basically 'Capture the Flag' with a grab the woman twist to it. The difference being, she'll start to freak out as you carry her back to your base, and in order to shut her up, you have to slap her around a bit. Hmmm...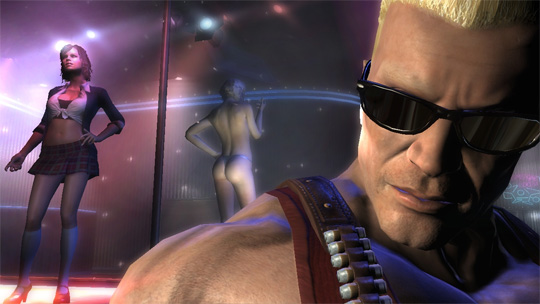 Multiplayer, which is for up to eight players with Dukes wearing red or blue shirts, will feature ten maps, including a remake of the Duke Burger level. How nostalgic.
Experience points will be awarded for killing other players, which can be used to customise your Duke. We'll see the return of Holoduke, Steroids and the Shrinker as well as many popular weapons. There will also be an opportunity to use a Jetpack.
Say what you will about DNF's single-player mode - which features sapphic schoolgirls and erotic toys - but multiplayer looks a real gem - apart from the slapping, mind - and I can't wait to rip my friends a new one. Mess with the best, die like the rest. ®