This article is more than 1 year old
Jawbone Jambox Bluetooth speaker
Plays music, takes calls
Review It's a chunky little fella, the Jambox, and when you look at it, it's not instantly clear what it is. Jambox is the creation of Aliph, the makers of the excellent and stylish Jawbone Bluetooth headsets, and the company's noise-cancelling smarts come into this product, too. In fact, it turns out it's a great wireless stereo speaker: wireless both because it connects to your music source by Bluetooth and because its rechargeable battery does away with need for a power cable.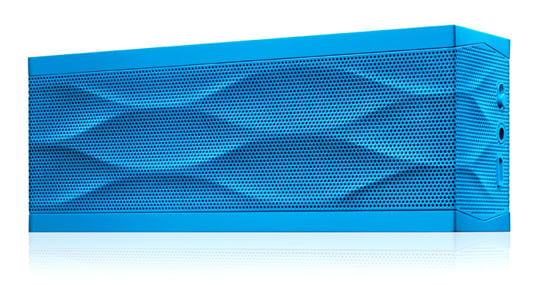 Wireless audio: Jawbone's Jambox
Solidly built, the Jambox is light enough to be portable but heavy enough to feel reassuring. It has a 6in long mesh grille with highly tactile rubber base and lid. On top are three buttons: big plus and minus-shaped volume keys and a circle which connects the speaker to a phone (once you've paired it), as well as other functions like voice dialling.
When you turn the Jambox on with its slide switch at one end, it bursts into life with a satisfying sound and vibration. Next, you must pair it with your phone or Bluetooth device. Pairing Bluetooth headsets used to be a right pain, and Jawbone was among the first to make it easy, swift and reliable. So it's no surprise that pairing the speaker with your phone is simple, too.
Once done, it's all child's play. Launch the music player from your paired source and press play. The sound that emerges is strong, attractive and reasonably powerful. There's no distortion except at the highest levels and even then only occasionally.
Look at the Jambox while it's playing and it seems mildly surprising that so much volume is coming from a little box. True, the stereo separation is unsurprisingly minimal and when staring at the cute box you get a sense of the music being limited by the compactness of it all.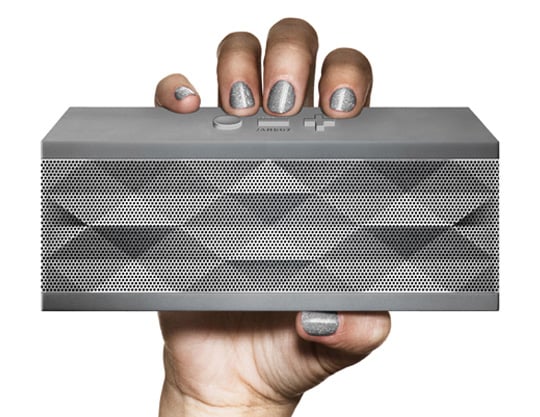 Appearances can be deceptive
But turn your back to it and it sounds just great, filling a small to medium room with consummate ease. It really makes it perfect for taking with you on a trip – diddy and light enough to squeeze into a corner of your hand luggage, loud enough to entertain your hotel room, assuming you've not been upgraded to a massive presidential suite.