Jawbone Jambox Bluetooth speaker
Plays music, takes calls
Voicebox
You can use the Jambox as a speakerphone. Noise cancellation features from Jawbone's Bluetooth headset are used here, and to good effect, though sound was sometimes oddly tinny, if still bearable.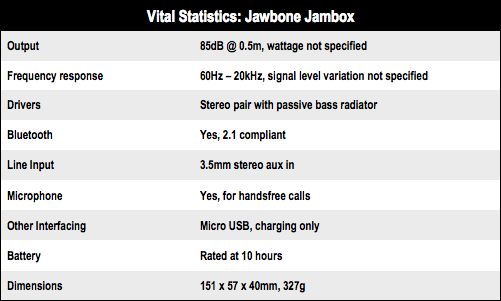 Touch the Talk button when it's not on a call and a voice speaks the remaining battery time. There's also a graphic on your iPhone screen to show how much juice is left. You can even customise the voice thanks to options on Jawbone's website. It comes in a variety of cool colours including the bright blue reviewed here.
Battery life is more than satisfactory, although nearer seven hours during tests, rather the 10 hours the maker suggests. Of course, your chosen volume levels will affect this. Even so, it's pretty impressive.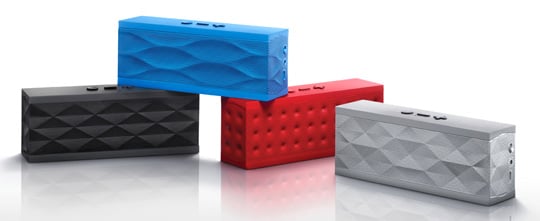 Pricey, but well thought out
Verdict
Small, loud and good to look at – what's not to like? Well, this is not a cheap gadget. The sound isn't perfect and you could buy higher quality speakers for the same or less. What you're paying for here is great design, superb ease of use and a nice degree of versatility, all in a tiny package. And if those things are important to you, the Jawbone Jambox is certainly worth a listen. ®
More Audio Gear Reviews…

Altec Lansing
inMotion Air
Denon Ceol
with Apple AirPlay
Arcam
Solo Neo
Onkyo
CS-545
Roberts
Stream 63i

Jawbone Jambox Bluetooth speaker
Highly portable speakers for playing music wirelessly from your phone.