RIM BlackBerry PlayBook tablet release slips
Nudged back out of iPad 2's shadow?
RIM's PlayBook tablet will be out slightly later than planned.
The BlackBerry maker today announced a whole heap of network operators and retailers who will be selling the PlayBook in North America.
Curiously, it didn't say when these retail partners will offer the 7in, QNX-running tablet, which RIM promised earlier this year would go on sale in Q1.
The first quarter of 2011 is rapidly approaching its end. Will RIM get its tablet out in time?
Well, no, not according to one of its aforementioned retail partners.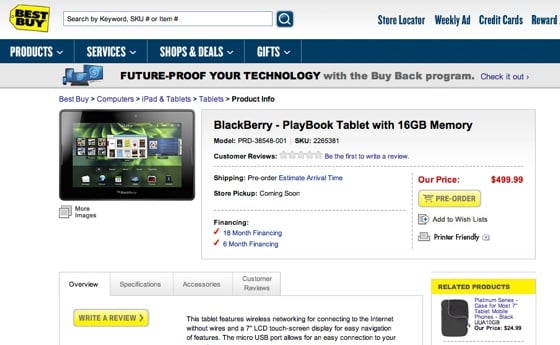 US chain Best Buy will be selling the PlayBook, but a peek at its pre-order system reveals an "estimated arrival time" somewhere between 19 April and 26 April.
That's essentially a month later than expected. The PlayBook is due over here some time in Q2, so a month's set-back shouldn't change that.
Such a 'delay' doesn't imply problems - RIM, not unreasonably, probably wants to get out of the shadow of the iPad 2 debut but ahead of the anticipated influx of Android-based tablets from Acer, Asus, LG, Toshiba, Samsung and co.
The PlayBook sports a 7in, 1024 x 600 capacitive touchscreen, 1GHz dual-core CPU, HDMI output, 2.4/5GHz 802.11n Wi-Fi, GPS, 16-64GB of Flash storage, a 3Mp webcam and a 5Mp photo cam.
RIM is pricing it at $500 (£306) before sales tax. ®