This article is more than 1 year old
Samsung intros 'skinnier than iPad 2' tablets
Android 3.0 and low, low prices
Samsung's newly introduced 8.9in Galaxy Tab tablet is a massive, unbelievable 0.5mm thinner than the iPad 2.
Yes, the new Apple tablet is 8.9mm thick, while the as-yet-unreleased Samsung rival is 8.4mm front to back.
Credit where it's due: Samsung deserves praise for for shaving off less than a millimetre of thickness to make the thinnest media tablet yet - watch out, chunky RIM BlackBerry PlayBook - but mathematical masturbation aside, the two tablets are as close as makes no practical odds.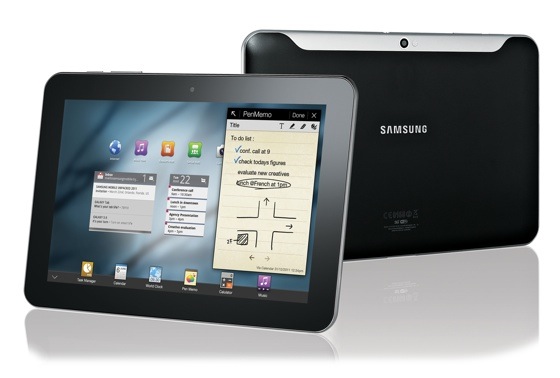 Tab 8.9-incher
Samsung's edge really lies in the weight. The 10.1in Tab weighs 594g to the iPad 2's 601g - not enough to trouble the scorer. But the 8.9in Tab, which is the same size, give or take, as the iPad to is just 467g.
That will make a difference when you're holding the tablet up to read.
That said, it may also indicate a smaller battery, though Samsung claimed today both tablets will deliver ten hours of video playback, which is what Apple also claims for the iPad 2.
Both new Tabs will run Android 3.0 - some Samsung press materials say Froyo - and sport dual-core 1GHz CPUs. Both have 2.4/5GHz 802.11n Wi-Fi. The displays are both 1280 x 800.
The 10.in is priced at $499 (£305) for 16GB and $599 (£366) for 32GB. Knock of $30 for the 8.9in model at those capacities.

Skinny
The prices lack sales tax, but at £286 for the 16GB 8.9in Tab - or £343 including VAT - Samsung has a real chance to undercut its arch-rival. The basic 16GB iPad 2 will retail for £399 here.
The Tab was a good start, but these offerings really do look like they'll give Apple a run for its money. ®