New movie gives Yuri Gagarin's view of historic 1961 mission
50 yrs of human spaceflight celebrated with ISS footage
A documentary filmmaker will celebrate the forthcoming 50th anniversary of Yuri Gagarin's historic first space flight by giving viewers the chance to experience what the cosmonaut saw from his Vostok 1 capsule.
Christopher Riley's First Orbit promises a blend of Gagarin's voice, recorded during the 108-minute flight on 12 April 1961, contemporary news reports, and hi-def footage captured from the International Space Station retracking the Vostok's route.
Riley told the BBC: "When you combine these pictures of what he was genuinely able to see with the excitement and tingle in his voice, it's quite amazing."
The ISS footage was shot from the orbiting outpost's multi-windowed cupola (see pic). Behind the camera was European Space Agency astronaut Paolo Nespoli, who was tasked with recording the Earth just as Gagarin would have seen it.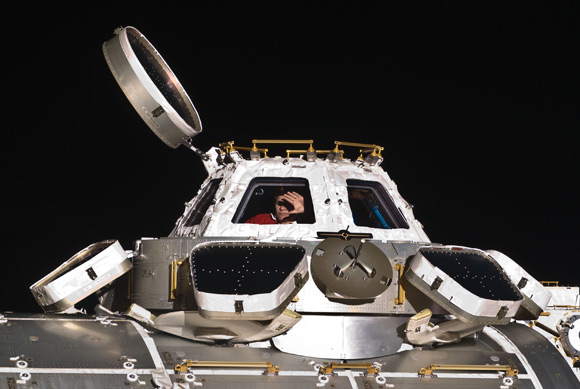 Riley explained: "My stipulation was that we had to film it at the same time of day that Gagarin had seen it, to get the Sun angles right. Those chances only happen every six weeks."
The cosmonaut departed Kazakhstan's Tyuratam missile range (later renamed Baikonur Cosmodrome) at 07:08 GMT on that historic Wednesday. He passed east over the Soviet Union and the Pacific, skimmed over the Straits of Magellan before crossing the Atlantic, Africa and the Middle East for a touch-down in southwest Russia.
First Orbit follows that path as closely as possible, although the ISS doesn't nudge the poles as closely as Gagarin did. Nonetheless, we're promised a "spellbinding" ride.
The film premieres on YouTube on 12 April, and will then be available for free download. There are full details here. ®