This article is more than 1 year old
Viewsonic 3DV5 HD 3D camera
Stereoscopic stills and video on the cheap
Review If Christmas or even the World Cup had you taking the plunge an investing in a 3D TV, then you're probably a bit weary of watching Avatar now and if you haven't got any kids, Alice in Wonderland may have been entertaining once, but…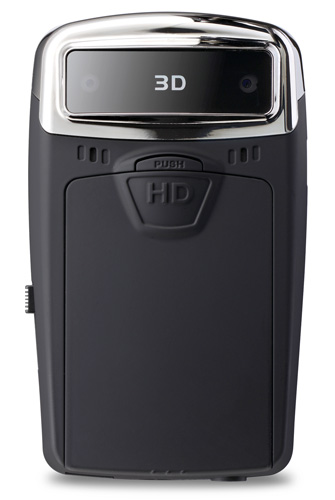 Viewsonic's 3DV5 offers the low cost perspective
So how about creating your own 3D content? If the likes of Fujifilm, JVC, Panasonic and Sony are to be believed, it's surely the next step. Still, it's a step that leaves a significant dent in the wallet if you're hoping to capture 3D movies. Taking a slightly different view is the 3DV5 from Viewsonic. For £140 this rather chunky, fixed focus camera – reminiscent of a 1990s handheld portable TV – will take stereoscopic video at 720p and 5Mp stills.
From the front, it looks like an evil penguin with the chrome frame around the two lenses and the charcoal, rubberised body that feature a stereo microphone and a cover for the rechargeable 1200mA Li-ion battery.
Over the other side is a tiny mono speaker grille at the top with the 2.4in 3D LCD display below. Underneath this are four chrome buttons for video, stills 2D/3D modes and file delete. In the centre of this cluster is a 5-way mini joystick. You'd be forgiven for thinking that all this chrome makes it look a bit tacky, it does, with all the refinements of a rush to market product.
Even so, the controls seem to sit in the right place, as it takes up most of the width of your palm – this beastie is certainly no Flip camera. One concern is the power button, which has no lock on it and is very sensitive to touch. It's all too easy to turn it on or off while adjusting your grip. On this side there's a mini HDMI port and SD card slot, all exposed to the elements, as is the retractable USB A connector in the base.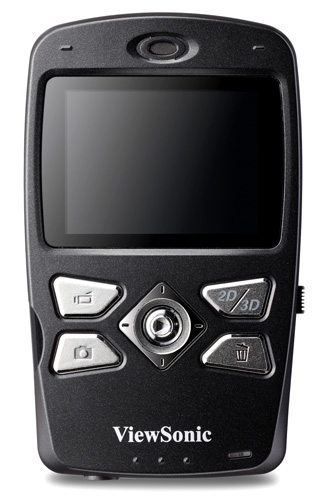 The controls are basic and easy to handle
The camera takes about 12 seconds to start up and the fairly low-res LCD screen immediately attracts your attention, but not because of the 3D display showing live images, but because of how blue it is. This emphasis is more apparent in subdued light and in 2D mode fares rather better probably due to the fact that the image appears brighter than live 3D viewing.