Synology DS411slim Nas box
The little big store
---
Review As technology progresses further into the twenty-first century, the most obvious trend is the miniaturisation of just about everything. While these changes have taken most aspects of new technology by storm, conventional storage however, has been left wanting.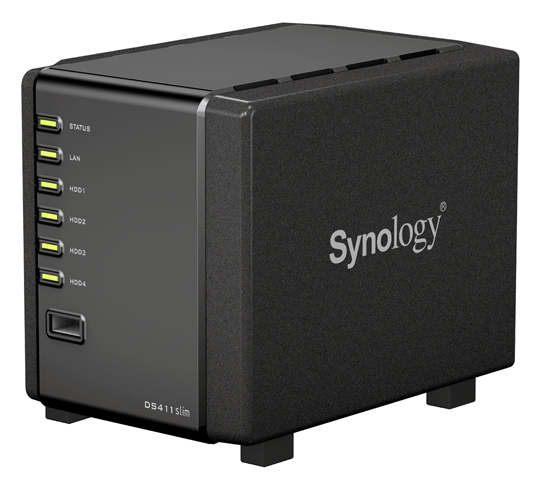 Synology's DS411slim four bay Nas relies on 2.5in drives
Sure, we've now got terabytes that fit in the palm of your hand, but with the exception of a few proprietary flash-based devices, most storage still complies with the same form-factor standards set down nearly twenty years ago.
Unfortunately, Synology's new DS411slim is not quite revolutionary enough to break the mould entirely, but it is a deviation from the norm. All squeezed into a space smaller than your typical radio alarm clock, you'll find a four-bay Nas box with a 1.6GHz CPU, 256MB of DDR3 and an array of useful external ports. These include both a front and rear USB 2.0 port, along with Gigabit Ethernet and that ever-handy eSata interface.
In order to accomplish this seemingly impossible feat within the confines of 120mm x 105mm x 142mm, Synology has downsized to 2.5in drives (not actually included though). Having been impressed by earlier products, I'll admit initially had mixed feelings about this one. Given Synology's respectable performance track record, would this baby Nas be able to keep up with the rest of their current line-up?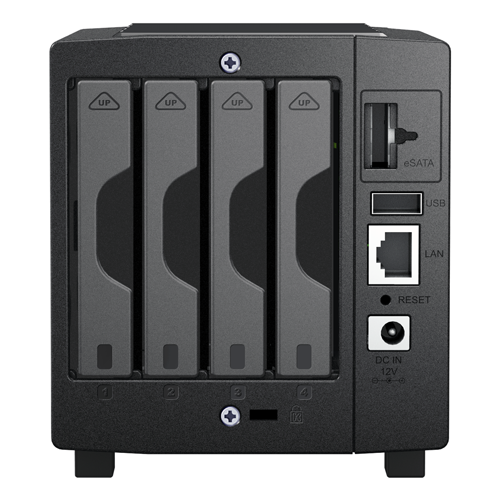 USB and eSata provide linking to external storage devices
In line with expectations, the build quality is excellent and the case itself is very well designed with straightforward usability in mind. Drive removal is as simple as sliding the trays out of the back and removing the traditional four mounting screws. Rinse, repeat and reverse to instal new drives.