Workshop Project managers usually opt for Microsoft Project, OmniGroup's OmniPlan or one of many other specialist software products, but some also make use of the ready-made templates included in diagramming software.
Many diagramming tools make it possible to create Gantt charts, Pert charts and flowcharts, and some also offer templates for visualising resource management, collaboration, issue tracking, scheduling and project portfolio management.

Pert Chart (C) Ralph Lengler & Martin J. Eppler
Microsoft Visio, for example, includes templates for Gantt charts, network diagrams, workflow charts, timelines and work breakdown structures (WBSs). Omniplan has options for scheduling, resource allocation and Gantt charting.
But many firms favour tools that adapt easily as a project progresses. The problem with spending hours creating charts is that sometimes it doesn't take long before they become redundant.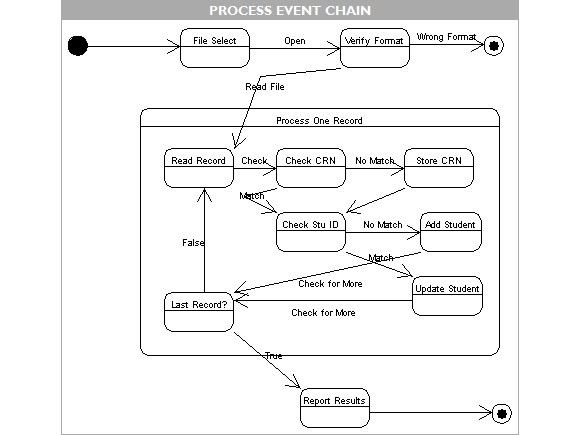 Process Event Chain (C) Ralph Lengler & Martin J. Eppler
Bob Walker, Microsoft Project technical sales specialist, says Pert charts are becoming less popular. "Most of our customers don't use them and are not trained to use them, even though they are a good visualisation tool. Many prefer to create a WBS using Visio, and then to generate a Gantt chart from that data. There are also misconceptions about critical path, which some believe is fixed. It's not, of course."
A WBS is a tree diagram used to define separate work elements and estimate costings, working back from the final goal, with "progressive elaboration" giving increasingly granular details on activities. The WBS facilitates decisions about assigning responsibility, allocating resources and control of the project.
Dale Vile, managing director of the UK analyst firm FreeForm Dynamics, says the focus must be on diagramming that aids teamwork. "You need effective communication to ensure everyone involved has a common understanding of what is being delivered and how. This can involve illustrating business requirements in a way that is meaningful to technical staff," he says.
"Diagramming tools are great for building visuals to assist with communication. PowerPoint is clearly one option, but the templates, standard iconography and conventions provided by tools such as Visio assures greater consistency, which is invaluable. Not having to reinvent the wheel when figuring out how to present subject matter is a big time saver."
Burn down
The use of diagrams to demonstrate real-time progress is key. In agile project delivery, progress must be demonstrated continuously to ensure the project delivers constant value, so real-time reporting is extremely useful. "Burn-down" reports show progress toward a target for each phase of the project.
Julian Holmes, co-founder of software developer UPMentors, says: "The status on a chart can be collated manually but real-time data is also an option when the team uses tools to track their actions and log their work. Tools such as Jira from Atlassian, or Team Concert from IBM Rational, are leaders in the field."
Whatever the tools project managers choose, their detractors are never far away so the visuals had better be robust. Register reader 'Anonymous Coward' is perhaps typical. "Where I work, the project manager title pretty much refers to any monkey able to randomly mash a keyboard with Microsoft Project open. I'd just occasionally like to see someone whose job title is PM actually do it," he says.
Perhaps the arrival of diagramming software in the cloud will start to encourage new, collaborative ways of using project management documents. It is also likely to continue to spawn a host of applications for niche market sectors.
Chris Roth, editor of the Visio Guy website, believes that the on-the-fly nature of such software will eventually bring huge benefits. "Web-based diagramming apps look interesting. They can update features any time, as opposed to the very slow update and upgrade cycles of desktop software. You can also have a lot of people work on the same diagram at the same time," he says. ®