The tit-for-tat between Oracle and Itanium chip partners Intel and Hewlett-Packard rolls on.
Oracle has released a statement saying that contrary to claims from Intel and HP, its decision to halt Itanium software development is not putting enterprises and governments at risk.
"Just the opposite is true," Oracle said with its latest volley in the Itanium skirmish. "Oracle has an obligation to give our customers adequate advanced notice when Oracle discontinues development on any software product or hardware platform so our customers have the information they need to plan and manage their businesses."
The company insists that Intel plans to replace Itanium with x86 chips. "HP is well aware that Intel's future direction is focused on X86 and that plans to replace Itanium with X86 are already in place. HP is knowingly withholding this information from our joint Itanium customers."
On Tuesday, just hours ahead of HP's annual meeting with shareholders, Oracle announced that it would be stopping software development on Itanium processors for future generations of its database, middleware, and application software.
"HP is knowingly withholding this information from our joint Itanium customers"
The move strikes right at the heart of HP's midrange and high-end Unix server business, and on the face of it, it's a brilliant chess move in the ongoing battle between Oracle and HP. The two tech giants have been uneasy about each other since Oracle bought Sun Microsystems in April 2009 (a deal that closed in January 2010).
But the fight really got going when HP pushed out former president, CEO, and chairman Mark Hurd for doctoring his expenses, to cover the costs of HP contract worker Jodie Fisher and provoking a sexual harassment lawsuit from her (which he privately settled). A month later, Hurd was in as co-president at Oracle, working for tennis buddy Larry Ellison, and Charles Phillips was out.
Then HP went and picked Leo Apotheker, formerly CEO at Oracle application software rival SAP, to be Hurd's replacement as president and CEO. Oh, and HP tapped Ray Lane, formerly president and Oracle, to be its chairman.
Collateral damage
These two were never going to get along well.
Now the Itanium chip and the HP-UX operating system are caught in the crossfire between the two companies, and Intel is being dragged in too.
Oracle said in its initial statement that after consultations with senior management at Intel, it decided to pull the plug on future software development for the Itanium platform, which most significantly includes databases and application software for HP-UX. Red Hat Enterprise Linux 6 already does not run on Itanium and whatever follows Microsoft Windows Server 2008 R2 to market won't either.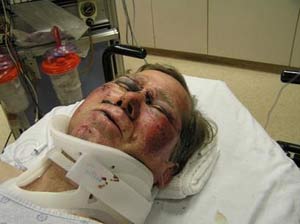 Don't mess with Oracle
"Intel management made it clear that their strategic focus is on their x86 microprocessor and that Itanium was nearing the end of its life," Oracle said.
HP and Intel fired back at Oracle yesterday, defending the honor of the Itanium chip. "Intel's work on Intel Itanium processors and platforms continues unabated with multiple generations of chips currently in development and on schedule," explained Intel president and CEO Paul Otellini in his own statement. Intel has the eight-core "Poulson" Itanium scheduled for next year and a kicker nicknamed "Kittson" due after that, probably in 2014 or so if Intel can keep to a two-year cadence, 2015 if it can't.
HP's Dave Donatelli, general manager of its Enterprise Servers, Storage, and Networking group, put out a statement of his own, saying that HP had an HP-UX roadmap that was longer than ten years out from today and that it would support HP-UX on current and future generations of Itanium.
Donatelli added that HP was "shocked that Oracle would put enterprises and governments at risk while costing them hundreds of millions of dollars in lost productivity in a shameless gambit to limit fair competition."
The one thing that neither Intel nor HP company would confirm or deny is that Kittson would be the last Itanium chip developed by Intel.
Representatives from HP speaking to El Reg would not answer this important question, and an Intel spokesperson gave the official "no comment" as well. If Intel wanted to prove Oracle wrong, it could have done that yesterday by divulging yet another code-name for a future Itanium chip. And just because it didn't do that doesn't mean there isn't one there.
Oracle reminded everyone again that while new versions of its software won't run on Itanium, the older versions will and that the company is the last major software player to stop development on it.
Aside from HP, of course. ®