Spurned nonagenarian lets rip with semi-automatic
Hell hath no fury like a granny scorned
---
A 92-year-old Florida woman refused a kiss by her 53-year-old neighbour responded by pumping four rounds from a semi-automatic pistol into his house.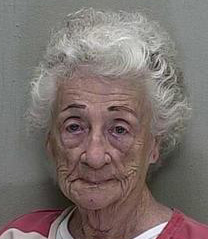 Helen Staudinger (pictured) of Fort McCoy took a bit of a shine to Dwight Bettner after he moved into a rented pad six months ago. He said: "I've taken her trash out for her, just neighborly stuff. I guess she just took that as something else."
The former law enforcement officer and boilermaker told Marion County Sheriff's deputies that Staudinger had previously threatened to shoot him when he told her he had a girlfriend.
She "didn't follow through" on that occasion, but things got a bit livelier on Monday when she turned up at his house and refused to leave.
According to Bettner, she said: "I want a kiss before I leave." He declined, telling the amorous nonagenarian to to take hike.
Shortly after, while he was on the phone to his dad, Bettner heard shots. One round went through a window, "spraying him with glass". He said: "If my head would have been over just a little bit further, (a bullet) probably would have hit me in the back of the head."
The pistol-packing granny had also fired at his new Mitsubishi 3000GT, a car "that he loved so much", as the incident report touchingly puts it.
Bettner concluded that he'd probably move house. He said: "I just don't need the stress or the hassle. I thought this only happened to younger people."
Staudinger was cuffed on charges of "aggravated assault with a deadly weapon and shooting into a dwelling". She's due before the beak on 26 April, Reuters notes. ®