The career of NASA's Stardust spacecraft comes to an end this evening when it performs a final firing of its engines, shuts down its transmitters and floats off into history.
The veteran comet-hunter launched in February 1999 on its primary mission to collect dust from Comet Wild 2. That proved a success, with samples parachuted to Earth in a capsule in January 2006. NASA then decided Stardust was up to another challenge, so dispatched the craft on the "Stardust-NExT" mission to photograph comet Tempel 1.
Stardust once again delivered, sending back photos of its February close encounter, and NASA hopes that during its swansong burn today, it'll end its life with a last burst of useful data.
Stardust-NExT project manager Tim Larson, of NASA's Jet Propulsion Laboratory, explained: "We call it a 'burn to depletion,' and that is pretty much what we're doing – firing our rockets until there is nothing left in the tank.
"It's a unique way for an interplanetary spacecraft to go out. Essentially, Stardust will be providing us useful information to the very end."
The question NASA wants to answer is just how much "ultra pure hydrazine monopropellant" Stardust has left in its tanks - something which the agency can compare with its estimates to get "a better idea how valid our fuel consumption models are and make our predictions even more accurate for future missions".
NASA explains: "Fuel consumption models are necessary because no one has invented an entirely reliable fuel gauge for spacecraft. Until that day arrives, mission planners can approximate fuel usage by looking at the history of the vehicle's flight and how many times and for how long its rocket motors have fired."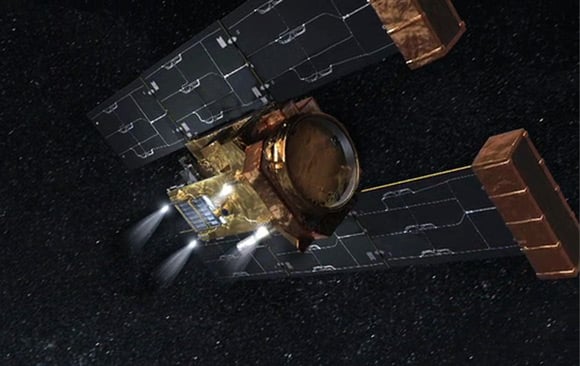 Stardust will burn to depletion at around 23:00 GMT. NASA expects this to last for between two and ten minutes. Larson explained: "What we think will happen is that when the fuel reaches a critically low level, gaseous helium will enter the thruster chambers.
"The resulting thrust will be less than 10 percent of what was expected. While Stardust will continue to command its rocket engines to fire until the pre-planned firing time of 45 minutes has elapsed, the burn is essentially over."
Once it's out of juice, Stardust will turn off its transmitters to ensure "unintended radio interference" can't affect future space missions. Without attitude control, the spacecraft won't be able to keep its solar panels pointing at the Sun, meaning battery death within hours.
Wherever the body of Stardust eventually travels, it's unlikely to return to Earth in the near future. Larson assured: "When we take into account all the possibilities for how long the burn could be and then the possible post-burn trajectories, we project that over the next 100 years, Stardust will not get any closer than 1.7 million miles of Earth's orbit, or within 13 million miles of Mars orbit."
NASA has more on Stardust here and its burn to depletion here.