Acer locates 'missing' tablet strategy
Date, price set for Android 3.0 fondleslabs
---
Surprisingly, the A500 lacks this docking double act so presumably Android users are all slackers whose only interest in a tablet is as an entertainment device. When questioned why the A500 hadn't been designed along similar lines as the W500, the initial reply was it hadn't been developed. Pressed as to why not, the response was a shrug. Perhaps that tablet strategy is still missing guys?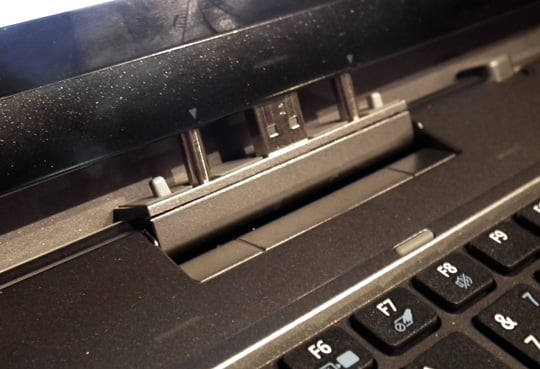 Docking
Now, Android users with work in mind can always resort to a Bluetooth keyboard, but the differences don't stop with the gadgetry. The W500 is powered by an AMD Fusion C-50 1GHz dual-core CPU. It's the 9W version with 1GB RAM and an AMD Radeon HD6250 GPU with 256MB RAM.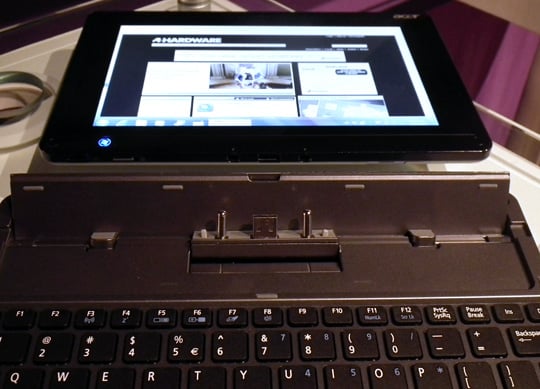 Detached
By contrast, the A500 features an Nvidia Tegra 2, another 1GHz dual-core chip, but this time the ARM Cortex A9 with an Nvidia ULP GeForce GPU. Both tablets are capable of delivering 1080p video, and while you're not going to see that in all its glory on the 10.1in, 1280 x 800 display, the HDMI interfacing will deliver it when hooked up to a telly.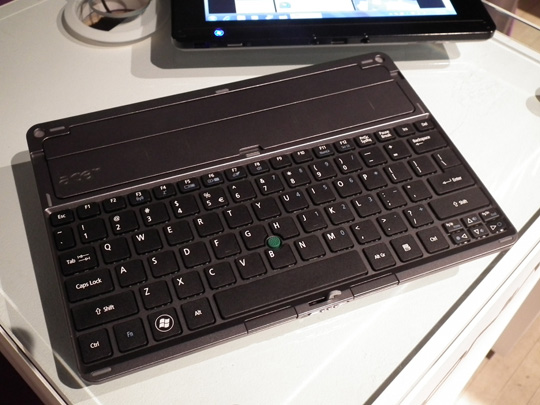 Docking assembly folded away
With Honeycomb still in the hive, Acer's focus was on the W500 specs claiming a battery life of four hours for video viewing and six hours web browsing. The W500 runs Windows 7 Home Premium 32-bit, and Acer includes a trial anti-virus package. Yet with a persistent AV package running, chatting away for revised virus definitions and periodically scanning the Iconia's 32GB SSD, it begs the question whether those battery life figures will be affected.