Libya fighting shows just how idiotic the Defence Review was
Vast fleet of RAF planes delivers just 3 crap missiles
---
Comment Recent combat operations by British and allied forces in Libya are beginning to tell us a lot: not so much about the future of Libya, which remains up for grabs, but about the tools one actually needs for fighting real-world wars against real-world enemy armed forces.
The vast bulk of our own armed forces are set up, equipped and focused on this type of mission – rather than the hugely more common one of battling guerillas and insurgents, as seen in Afghanistan – so the Libyan operations of the last week are very important to us at a time of shrinking budgets and worldwide turbulence. Libya is telling us how well the Coalition government did in its recent Strategic Defence and Security Review - and bluntly, it is showing that the Review was a fiasco.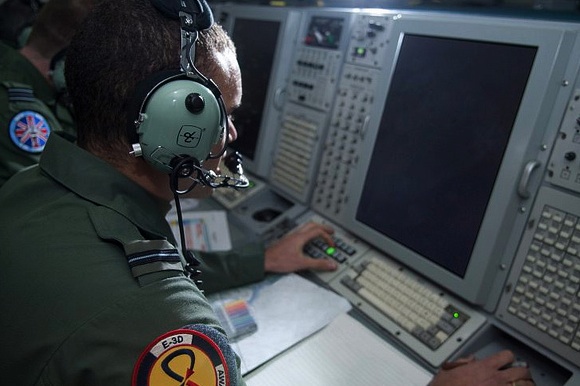 This bloke is actually doing something useful.
While we are learning these lessons, we need to remember all the time that all the different parts of our armed forces are well aware of these dynamics and are jockeying for position throughout, trying to make sure we learn the lessons they wish us to learn. It is always very common in all modern wars to find, for instance, that tasks will be achieved or attempted using inappropriate tools in order to justify those tools' existence.
Thus we need to ask not whether this or that was used, but whether this was the most efficient way to achieve the goal – whether it could have been done more cheaply and/or with less risk to our servicemen and women. In many cases we will need to ask whether anything actually was achieved.
So what's happened so far?
In short, it appeared until last weekend that the rebellion against Colonel Gaddafi's dictatorship would soon be crushed, as Gaddafi had retained control over the bulk of his armed forces. As he thus had an almost complete monopoly of heavy military hardware – coupled with a complete lack of restraint in using it – he would be able to defeat the rebels militarily almost regardless of the degree of support they might enjoy among the population.
The western alliance has stepped in to remove this military inequality – to neutralise Gaddafi's hardware, to defeat his armed forces. What threats have we needed to neutralise, then?
First and least significant among these were Gaddafi's air defences, preventing us from operating above Libya. Air defences generally consist of fighter jets, missiles fired from the ground, and long-range radars (on the ground or, in the case of well equipped enemies, airborne) which are used to direct operations.
Gaddafi's air force at the start of the fighting was very typical mad-dictator or military-junta stuff. He nominally had hundreds of combat jets, but these were antiques – at least two generations behind modern planes like the UK's Eurofighters or France's Rafales, and a generation behind our older planes like the Tornado. Also, only handfuls of the Libyan planes were actually airworthy – perhaps 50-odd all up.
Gaddafi's planes would present a potent threat against ground forces without air cover – they operated effectively against the rebels – but the air-to-air menace they could offer against our planes was close to nil.
Thus we have to conclude that highly advanced specialist air-to-air combat capability has not been necessary here. The RAF has rushed Eurofighter Typhoons to Italy – they were the first British aircraft to arrive there, in fact – but they are pure air-to-air planes at the moment (the RAF doesn't expect to have them properly ready for use as bombers until 2018). The odds are that they will not fire a shot – and if they do it will be to swat down some rusty old MiG flown by a suicidal pilot. For this job, much cheaper fighters would have been more than adequate: say American F-18s or F-16s, or even our previous embarrassing Tornado F3, now retired.
So, point one: buying the Eurofighter remains a stupid idea on our part.
Much more serious than fighters from our point of view were Gaddafi's heavy missile batteries and air-search radars, which could make the sky dangerous right up to high altitudes above 40,000 feet. Coalition electronic warfare and AWACS aircraft – along with US satellites – had been monitoring Libya for weeks prior to commencement of hostilities last weekend, and appear to have done a good job of locating these systems (and tracking them in the case of those which have been mobile).
Point two: electronic warfare and AWACS planes are useful, even against the minor regimes who we might genuinely fight in the real world. The decision to keep both in the recent UK Defence Review was sensible (the Nimrod R1 Elint planes were marked for the bin – and have been temporarily been reprieved for duty in the Libyan situation – but replacement "Rivet Joint" aircraft are on order).
OK, so we had a good handle on where the radars and missiles were. The next step is to take them out, rendering the skies safe for us to use (above say 10,000 feet, the effective ceiling of portable shoulder-launched anti-aircraft missiles).
There are lots of ways to take out radars and missile batteries. One way, provided you aren't up against modern AWACS-plane radar looking down from the sky, is to fly in at low altitudes. That way you'll be below the horizon and won't show up on radar until the last few minutes. Then you zoom in, bomb the target and hope that you can get out again safely even though the enemy very definitely know you're there at this stage.
The RAF's Tornado bombers were originally designed just for this type of mission back in the 1970s. They tried it in 1991 against Saddam Hussein's forces, and were famously decimated – typically getting shot down by short-range anti-aircraft weapons as they departed the target area.
Similar topics
Broader topics