This article is more than 1 year old
Nintendo 3DS launch games
We rate the first batch
Review
Super Street Fighter IV 3D Edition

A faithful port of the Xbox 360/PS3 original, SSF IV is the most comprehensive 3DS launch title. It's also one of the best looking.
All the console features are retained, from Arcade and Challenge Mode to Internet Match and the fully-customisable Training Mode. And the full roster of 35 fighters squeezes into the handheld unscathed.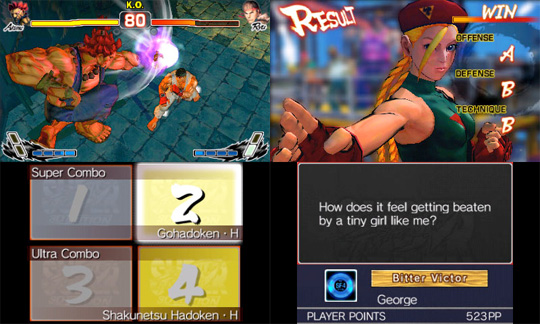 The 3D effects impresses in both the traditional side-on view and the new over-the-shoulder Dynamic View, although framerates drop slightly with 3D turned up to the max. As mentioned in Reg Hardware's 3DS hardware review, SSF IV's backgrounds are disappointingly static, raising early questions over the 3DS' processing power. Despite this, the depth effect of crisply-animated fighters overlaid upon four or five distinct parallaxing layers is breathtaking.
Online multiplayer is surprisingly impressive, with almost instantaneous connection and pairing, and zero lag. Even with the 3DS available only in Japan, I always found a match. It was during several bouts online, however, that the 3DS' design flaws were most apparent. Dragon punches and fireballs roll of the analogue Circle Pad with ease, but the + pad remains better suited for general movement in the 2D plane. Unfortunately, its low placement coupled with the proximity of the face buttons with the right-shoulder bumper locked my thumbs into stressful positions, and I was unable to play comfortably for more than ten minutes at a time.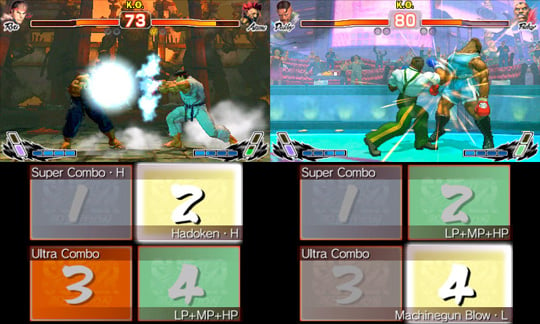 The fatigue wasn't restricted to my thumbs alone. Despite the wealth of content, the novelty of 3D and the excellent online performance, SS FIV is recommended only to new entrants to the series. After longing for the definitive portable version, just a few hours playing SSF IV on the compact 3DS made me yearn for the luxuries of an arcade stick and an HDTV.

Reg Rating
75%
Price
£35
More Info
Ubisoft's Official Street Fighter website