Apple iPad 2
Tablet two-point-oh
Dangerous curves
There are costs. The controls are now mounted into curved surfaces not flat ones. That doesn't matter for the buttons, but being able to see part of the 3.5mm jack on the end of your heaphones' cable is a rare - for Apple - design snafu. Why not bore a deeper hole, with a wider entry so the jack fits right in?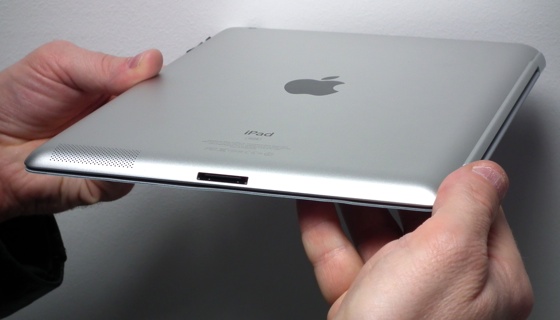 The curves make for tricky docking - and the speaker's weak too
You'll want to use headphones with the iPad 2 because, despite its large, cool-looking pinhole-matrix grille, the tablet's speaker is as poor as before. Early rumours of a more beefy sound system have proven false.
But the big problem with the curved edges lies with the dock slot. Before, you could just drop you iPad down on a cradle or speaker dock and connecting the two would be entirely trouble free. Getting the iPad 2 onto a Philips Fidelio DS9000 was a right royal pain in the posterior. The tablet would not dock, the curved edge pushing the speaker's spring-loaded connector out of the way.
Upgraders, be prepared to consider fresh accessories. But then that's long been the case with Apple's mobile offerings.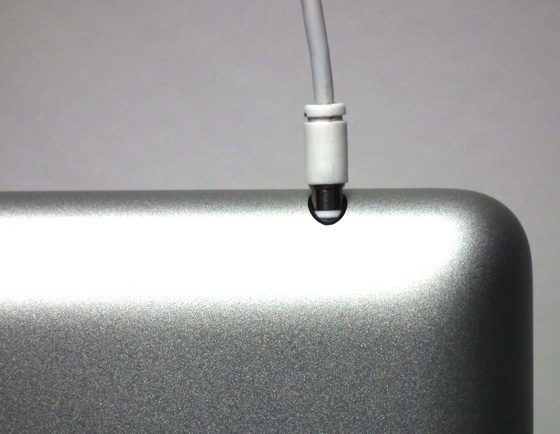 Jack boot: an exposed 3.5mm connector is sloppy design
Apart from the shonky cameras - it's good to have a webcam, but who needs a stills'n'video camera on a tablet? - the iPad 2 matches the original. There's the same 9.7in, 1024 x 768 IPC LCD screen - exactly the right aspect ratio for a gadget you can use in both portrait and landscape mode. Widescreen looks fine in landscape, but is just plain too narrow in portrait.
Once again the display is banded with shock-absorbing rubber that has saved my iPad's bacon on a number of sudden-drop instances.