NASA has decided to ditch plans to equip its Curiosity Mars rover with a pair of 3D cameras.
Avatar helmsman James Cameron was behind the move to replace the rover's two cameras with some enhanced glass, but the agency says it doesn't have time to test the kit before Curiosity sets off for the Red Planet later this year.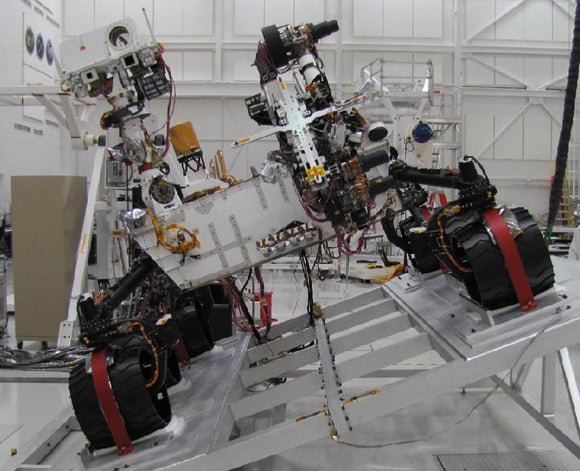 Curiosity is already fitted with a pair of fixed focal length cameras in its "Mastcam", seen at the top left of the photo above. Malin Space Science Systems, which made the cameras, was working with Cameron to replace these with a couple of zoom lens models suitable for generating 3D.
The existing cameras are the Mastcam 100 and Mastcam 34 (see pic below), with a CCD resolution of 3,008 x 2,000 pixels and focals lengths of 100mm and 34mm respectively.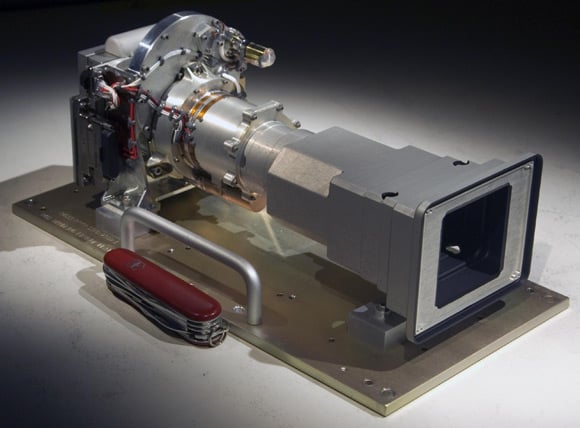 Mars Science Laboratory project scientist John Grotzinger said: "With the Mastcam that was installed last year and the rover's other instruments, Curiosity can accomplish its ambitious research goals.
"Malin Space Science Systems has provided excellent, unprecedented science cameras for this mission. The possibility for a zoom-camera upgrade was very much worth pursuing, but time became too short for the levels of testing that would be needed for them to confidently replace the existing cameras."
Malin will continue to work on the zoom models for possible future use. Cameron said: "While Curiosity won't benefit from the 3D motion imaging that the zooms enable, I'm certain that this technology will play an important role in future missions. In the meantime, we're certainly going to make the most of our cameras that are working so well on Curiosity right now."
Curiosity is slated to head off to Mars between 25 November and 18 December. During its two-year mission it will "examine whether conditions in the landing area have been favorable for microbial life" and sniff for "evidence about whether life has existed there". ®