LogoWatch As we announced last week, Nokia has unleashed its new "Nokia Pure" font on an unsuspecting world, but we seriously underestimated just how much whalesong and joss-sticks went into the creation of its "humanist sans face".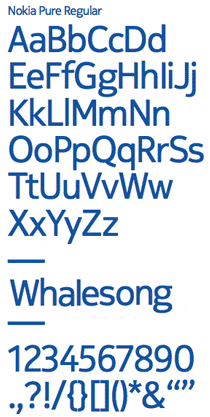 Typographic geezer Bruno Maag, having already admitted that Nokia Pure has "clarity of purpose and as little design as possible", felt moved by the sound of the cetacean chorus to add: "It was a balancing act. An elegantly simple typeface that doesn't draw attention to itself, but is still distinctive and different.
"For me, it's the rhythm of the typeface and the relationship between characters that's critical. After all, when it's set in Arabic, you still need to know that it's Nokia, and this is achieved by creating a recognisable rhythm."
Nokia elaborates: "That's why Nokia Pure is based on the idea of seamless, fluid motion. The generous, rounded characters seem almost to flow into each other, as if there's no beginning and no end. Their movement is gentle and pleasing, like ripples on a pond."
If your nerves can stand it, there's more of this cobblers here. In fairness, Nokia is right about one thing: it says that "the effect of a typeface on a reader happens at a visceral level", which explains why I instinctively kicked the cat when Nokia Pure flashed before my eyes.
Regarding just how much this nonsense has cost Nokia, it admits knocking up a font represents "a huge investment in time, skill and money". As one commenter put it down at Design Week: "If I was Nokia I would concentrate on making some decent phones to be honest." ®
Similar topics