This is the environmentally friendly way of exploiting the wilderness for oil
Thus the Walrus project never went ahead. There are multihundred-million-dollar US military airships being built even now - the LEMV and the ISIS - but they are meant for use as unmanned, long-endurance surveillance platforms. As their payloads are thus relatively small they don't need as much gas and their pressure height limits can be high enough to survive above the battlefield.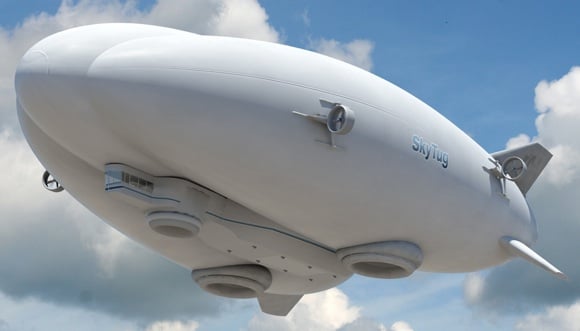 Technology that really blows. Or sucks
Lockheed evidently hasn't given up on a military role for the P-791 despite having been beaten to the LEMV deal by a British design. Under the new arrangement with Aviation Capital, Lockheed keeps the military rights to its technology, but has sold civil applications to its Canadian partner.
These civil applications are quite likely to start off with the oil and gas industries, or other groups needing to move heavy loads into and out of places without access roads. It's no surprise to find that Aviation Capital is based in Alberta, thought to have vast reserves of black gold lying unexploited in its oil sands. Getting this oil out of the ground involves more machinery than a normal oil-well requires, and moving this kit about would normally require a lot of new roads - which would be expensive and heavily criticised for further despoiling the wilderness.
Various crafty solutions have been proposed to deal with this situation, including riverine hover barges. It was announced in 2008 that Lockheed's great rival Boeing would build an ambitious heli-stat - a combination blimp and helicopter - again in partnership with a Canadian company: but it appears that this project has now folded, with its backers unable to secure Canadian government funding. It would appear that the oilsands field is now clear for Lockheed's P-791 technology - and that this is what the initial application of the SkyTug will be.
Aviation Capital, in common with most airship companies, likes to suggest that its craft will be "environmentally sound", and this is true as far as it goes - they should be fuel-sippers compared to normal cargo aircraft. But not many greens will approve of the uses to which the SkyTug seems likely to be put, at least to begin with.
The company tells the Leading Edge blog that the initial experimental craft of 2012 will be followed by another in 2013 which will achieve FAA certification. Work will begin on the first production craft that year, if all goes according to plan. ®