Steve Jobs screws my wife (out of $944)
What do you do with an iPad 2?
---
What do you do with an iPad 2?
I went with the Red and White for my iPad look mainly because they did not have a navy blue leather cover, which would have let me display my colors for my alma mater, Penn State, where I studied engineering and American literature. (Or what passes for literature. Don't bother to hit the comment button. I already know). I figured Red and White would make it a VulturePad.
But to my horror, the back of the iPad 2 is gray brushed aluminum with a black apple and black sensors, and when you take it all in, that makes it an Ohio State BuckeyePad, Penn State's arch rival. I will get a blue leather cover as soon as Apple makes one.
I must say, despite the fact that I am nervous about magnets being near computing devices, the cover design is brilliant. It snaps on perfectly, almost by itself, and it turns the iPad into a book cross with your refrigerator: you open it, the device turns on instantly, you close it, it turns off. This suits my 21st century impatience perfectly. I want all computers to do this. (My Dell workstation, with its SSD drive, is pretty damned close, by the way.)
For the last week, my iPad 2 has been a great conversation piece, but it's only half a computer. It's mobile, but it's not as versatile as my two-screen workstation PC. And I don't quite know how much I can do with. That's my lightning review. You can read the complete El Reg review here. The story you're reading now is not a review per se. It's a confession of guilt.
Of course, the iPad is great for watching videos anywhere you want. My kids watched countless YouTube videos on it. Why this was more fun on the iPad 2 than on their PC, I do not know, but it clearly was. My wife downloaded a sketching app and drew for a while. Then we snuggled into bed to eat some ice cream and watch an episode of Eureka - which was perfectly watchable, by the way, over our Internet-linked Wii using a Netflix account - and with a flip of the cover when the episode was done, it was off. At least I hope it was.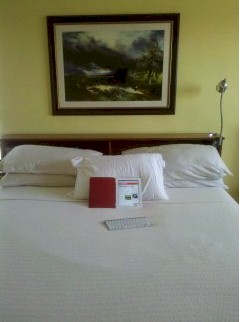 Three's company, or a ménage a trois.
Right now, the iPad 2 is going to be my Kindle and my portable Web browser. I know people love their Kindles, but I like color and I also like touchscreens. Sorry, but there is no going back once you have been there. I borrowed a friend's Kindle at the gym a few months ago, and I kept stabbing at the screen to make it do stuff, which it does not know how to do. You have to hit buttons on the side and bottom of the Kindle. Screw that. I want to read ebooks and Web pages and run apps on the same device.
I also plan to test out server management and virtual desktop infrastructure tools from the iPad 2, but have not as yet had time to do this. But I will be monkeying around with this and will let you know what I learn.
It would be good to be able to take this on the road and use it to do my journalism too. But I haven't yet found a word processor that can work offline that I like and that offers something akin to Word compatibility. (My daughter has a Macbook and says iWork has issues. If you have any advice, Reg readers, I am all ears. Send me a comment. I don't like the idea of using Google Docs because it is bad enough that Google is reading my office email, does it have to read what I am writing as I am writing it?
I was also hoping to use the iPad 2 as a camera, but the camera in the device is an embarrassment. Come on, Steve. Don't be such a cheapskate with the camera. I mean, even I don't look that bad.
I might load it up the iPad 2 with music, but I might not. My Droid is empty and has been for two years except for photos, with the Droid having replaced expensive still and video digital cameras of higher quality. Convenience does trump quality sometimes, but the iPad 2, at 300 kilopixels for the front facing camera and 700 kilopixels for the rear facing one, is bloody awful. And of course, this being Apple, I won't be able to upgrade the camera ever. Apple should have put the 5 megapixel camera in the iPad 2. I guess I will have to wait for the iPad 3.
But I have to say: my iPad is kinda like the StarTAC. It makes me think of Trek. I will probably, at least once, ask my wife to put on that little red dress she wore to the first wedding we ever attended as a couple, put on a blonde behive wig (or at least put her hair up in some fancy braid) and hand it to me as if I'm supposed to sign it, as an adoring yeoman would. If I am lucky, she might even call me Captain. ®