This article is more than 1 year old
US Navy to field full-on robot war-jets as soon as 2018
Would be the first droids to match manned fighters
The US Navy has indicated that it would like to have unmanned, robotic spyplane/bombers operating from its aircraft carriers "in the 2018 timeframe", which suggests that flying kill-robots will soon be in the same league as the most powerful manned combat aircraft.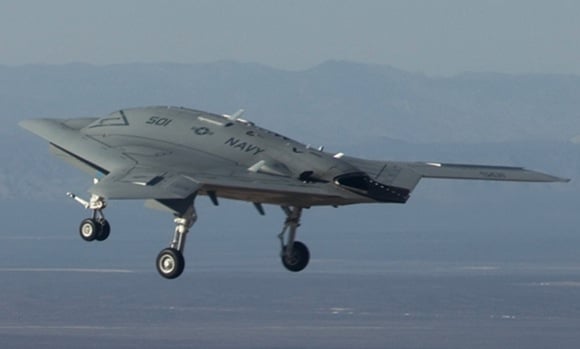 No more feeble non-stealthy turboprops: Pick on something your own size, fleshy
Present-day robotic warplanes such as the well-known Predator and its variants (for example the even larger and still more powerful Reaper) are heavily armed and highly capable, but in the world of major air forces they're still quite feeble. Rather than supersonic jet propulsion they typically rely on comparatively slow propellors, and their weaponry options are comparatively restricted.
In short, in a fight, humans would easily win an air war against the robots - at the moment.
But that could change in as little as seven years. The US Naval Air Systems Command (aka NAVAIR) yesterday issued an announcement that it would like contractors to conceptually demonstrate that it's possible to deploy an Unmanned Carrier Launched Airborne Surveillance and Strike (UCLASS) system "in the 2018 timeframe". The UCLASS is to be "persistent" - ie it should be possible for a naval air wing to keep robot spyplane-bombers in the air around the clock for long periods - and it should be able to operate based aboard a nuclear-powered aircraft carrier (CVN).
According to the announcement:
The envisioned capability will include CVN launch; CVN based flight control inside the Carrier Controlled Airspace (CCA) and within line-of-sight (LOS) of the CVN; and land-based mission control outside the CCA and LOS with the CVN utilizing existing DoD Unmanned Air System (UAS) control systems (modified as necessary); and recovery back aboard the CVN. Additionally, the air vehicle will be operable from BLOS land-based, fixed site airfields utilizing the remote vehicle control architecture, and interfaced with other Navy airborne systems during mission operations. Persistence should allow a single carrier to provide sustained 24/7 ISR capabilities even when conducting 12-hour flight deck operations. The envisioned system may require aerial refueling capability.
Most of this will be demonstrated as part of the ongoing X-47B programme, intended to show that unmanned jets can do carrier operations. The first X-47B took to the air last month, though only from a normal landbased runway: it and its companion aircraft are expected to achieve the full panoply of carrier operations - catapult launch, tailhook/arrester-wire landing, even air-to-air refuelling - by the end of 2013.
Carrier tailhook landings are seen as one of the most difficult piloting feats to master, and keeping human pilots qualified in this tricky skill requires a lot of expensive training time. Then, humans' endurance is limited - even where there are two pilots and room to stretch out for a nap (as in the case of the B-2 Stealth bomber) there's a limit to how long a manned aircraft can keep on topping up its tanks using air-to-air refuelling and stay in the sky.
Not so the UCLASS, which could remain on patrol as an airborne spyeye for days or even weeks on end, sustained by airborne fuel supplies as required.
If the X-47B is anything to go by, the UCLASS would also be far and away the most powerful war robot yet fielded, boasting full-fat jet propulsion and Stealth features to match the latest manned aircraft. The just-issued NAVAIR document also specifies that it is to have the option of carrying a wide range of "mission packages" - including both surveillance sensors and, of course, weapons.
In short the UCLASS is likely to be the first combat robot which could actually give a manned fighter plane some trouble - and it could be here a lot sooner than had been expected.
That said, NAVAIR also specifies that "weapons release will be accomplished under positive human control": there is no suggestion - as there is in some other robo-bomber projects - of autonomous weapons release. In any case autonomous weapons release is already a practical reality: the Tomahawk cruise missiles used to suppress Colonel Gadaffi's air defences last week are effectively autonomous robot kamikazes - they decide on their own whether or not they've found the right place/thing to blow up.
For now there's no decision on UCLASS, anyway. NAVAIR are merely looking to shell out $2m or so on a study telling them whether the idea - and the timeline - are feasible or not.
You can read the announcement here in pdf. ®