The product update drum keeps beating out its time at Cisco Systems, with new Nexus converged switches coming out the factory door. Cisco, which fancies itself a server maker these days, is also getting the jump on its peers in talking about the servers it plans to put in the field using Intel's future "Westmere-EX" Xeon E7 high-end processors.
The Nexus switch family runs the NX-OS operating system and sports converged storage and server networking. The plan was to include the Fibre Channel over Ethernet (FCoE) protocol on all Nexus switches as well as other boxes used by service providers, allowing companies to use their 10GE switches to support both Ethernet links to servers and FCoE links to external storage. With this round of announcements Cisco is making good on that plan, putting FCoE support into its Nexus 7000 end-of-row modular switches and into its MDS 9500 (Multilayer Director Switch) for storage area networks. FCoE was already available in the Nexus 2000 switches embedded in the "California" Unified Computing System blade servers and in the Nexus 5000 top-of-rack switches that are their analogs for rack-based servers.
By adding FCoE support to the Nexus 7000 and MDS 9500 switches, Cisco is able to deliver end-to-end FCoE on its gear. Shashi Kiran, director for data center and virtualization at Cisco, explains that the way the FCoE support is set up, users can make as many as seven hops across the network from a server to the storage linked to it over the network – and it will still work. Customers who are using real FC links in their SAN switches can continue to do so, or they can mix and match as they upgrade their servers, because the MDS 9500 will support both real FC and FCoE links to storage devices.
Cisco plans to ship the FCoE support on the Nexus 7000 and MDS 9500 switch in the second quarter; the FCoE license will cost $10,000 on the Nexus 7000 and the MDS 9500 will support the protocol with an 8-port FCoE module that has not yet had its price set.
Like other switch-makers, Cisco wants to chase the financial services and other HPC centers that need high-density 10 Gigabit Ethernet switches, and is offering up its first Nexus product aimed at latency-obsessed speed freaks. Kiran says that a port-to-port hop inside the Nexus 3000 takes somewhere on the order of 1 microsecond.
The Nexus 3064 has 48 SFP+ ports that run at 10GE speeds and another four QSFP+ ports that are rated at 40GE speeds but can also use one-to-four splitter cables to deliver an additional 16 ports running at 10GE speeds if that floats your boat. The ASIC at the heart of the Nexus 3064 delivers 1.28Tb/sec of Layer 2 and 3 switching and can process up to 950 million packets per second, according to Cisco. (This is very similar to the feeds and speeds of the Arista Networks 7050S-64 rack-topper that came out this week.)

The Cisco 3064 10GE switch: density for speed freaks
The Nexus 3064 comes in a 1U chassis and sports 128,000 MAC addresses and 4,096 VLANs. It has 9 MB of buffer memory for packets and 2 GB of bootable flash memory. The switch comes with two 400 watt power supplies and has a typical operating thermal envelope of 286 watts under load. It has front-to-back air flow, with the ports in the front. The Nexus 3064 will ship in April. Pricing has not been set yet.
The Nexus 5000 series of regular top-of-rack switches for normal data centers (is there such a thing?) has two new products. The first is the Nexus 5548UP, which is a revamped version of the Nexus 5548P switch that Cisco announced last September. The Nexus 5548P had double the port count of the Nexus 5510 switch it replaced in the Cisco lineup, with 32 fixed 10GE ports and two expansion ports, as shown below, that could be configured with either 16 ports running at 10GE speeds or an 8-port 10GE module that also sported eight Fibre Channel ports to link out to pre-FCoE storage area networks.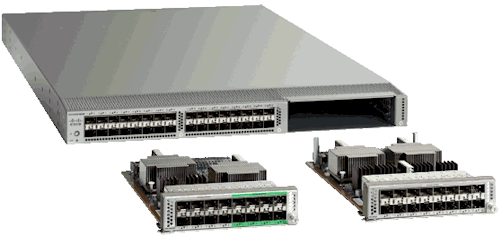 The Nexus 5548UP: Looks like the P model, adds Unified Port capability
With the Nexus 5548UP, Cisco is adding the unified port support to this existing switch, which means on the whim of a network manager, any port in the switch can be dynamically reconfigured to support Layer 2 or 3 network traffic or storage traffic (FCoE as well as iSCSI, NAS, and InfiniBand protocols work on unified ports).
Back in September, El Reg told you that Cisco was cooking up a 2U, 96-port big brother to the Nexus 5548, and this machine – the Nexus 5596UP – launches today as well.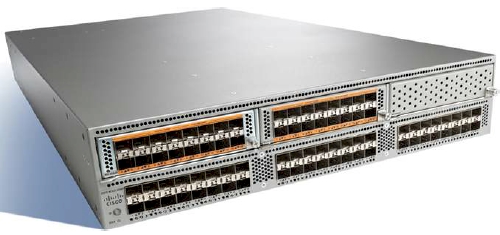 The Cisco Nexus 5596UP switch
The Nexus 5596UP comes in a 2U rack-mounted chassis and offers up to 96 10GE ports and 1.92Tb/sec of switching bandwidth. The switch comes with 48 fixed ports and then three expansion modules that are the same as those used in the Nexus 5548UP switch. Both switches support the IEEE 802.1Qbh bridge port extension protocol, which is under development now. These switches also employ the fabric extender (FEX) technology that is also used in the UCS blade servers. The Adapter FEX feature of these Cisco switches allows for a physical 10GE network interface card to be split up into multiple logical interfaces; the VM-FEX feature extends this logical networking from the NIC back into the server hypervisor so you can tie a virtual machine directly to a virtual NIC.
Both the Nexus 5548UP and 5596UP are available now, and cost around $750 per port, according to Kiran.
FEX support will eventually be added to the Nexus 7000 switches, and will be implemented in the N2224 and N2232PP FEX modules, the former offering 1,500 GE and the latter offering 1,000 10GE ports in a single Nexus 7000 chassis, all with a single point of management. FEX support for the Nexus 7000 switches is due during the second quarter.
Cisco is also working on a number of other things, including a feature for its Nexus switches called Location ID/Separation Protocol, or LISP for short, that will decouple a virtual machine's host IP address from the host location, allowing for IP address and network session to move with a VM as it live migrates around the network, hopping from physical server to physical server. This LISP support is coming in the second quarter.