And now for something serverish
As it did during the "Nehalem-EP" Xeon 5500 server generation two years ago, which launched the UCS blade servers to the world, Cisco has been allowed to provide a sneak preview of its future UCS servers, which will use Intel's "Westmere-EX" Xeon E7 processors.
The Xeon E7s are expected to ship soon. Intel is hosting its Developer Forum in Beijing, China, in two weeks' time, and the word on the street is that it will talk about the Xeon E7 chips quite a bit there.
Cisco is not providing a lot of detail on the Xeon E7-based servers it has cooking, but it is offering some pretty pictures. Like this one, for instance: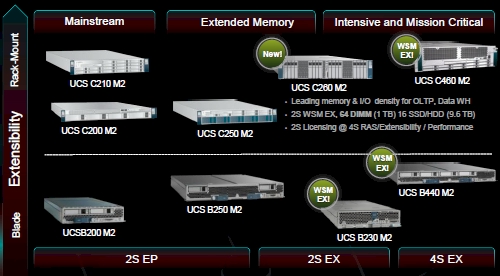 As you can see and as you may have expected, the UCS B230 and B440 blade servers and the C460 rack server will be updated with Westmere-EX chips, which are socket-compatible with the existing "Nehalem-EX" Xeon 7500 processors that Intel launched a year ago.
There is a new rack server coming from Cisco, however, and one which mixes the Xeon E7 processors and Cisco's own memory extension ASIC to cram lots of DDR3 main memory into a single chassis.

The Cisco UCS C260 M2 server
This server, dubbed the UCS C260 M2, will sport two Xeon E7 sockets and will have 64 memory slots, allowing for up to 1TB of main memory using 16GB memory sticks. The server design, says Kiran, has 32 and 64 slot memory rise options, so if you don't need to push it to 1 TB, you can stay down at 512 GB. The server, as you can see, comes in a 2U chassis and uses small form factor (2.5-inch) hard disk or solid state drives. Up to 16 drives can be put into the C260 M2. The box will have six PCI-Express 2.0 slots, two 10GE ports, and four GE ports on the system board. (It is about time server makers got 10GE ports on the mobos to drive down the cost of 10GE networking.)
Cisco says that it will ship its Xeon E7-based B230 M2, B440 M2, and C460 M2 servers in April, with the C260 M2 and its memory extension shipping in the third quarter. Pricing for all four servers has not been set yet. As soon as Intel makes its Xeon E7 announcement, El Reg will circle back to Cisco and get you all the details. ®