Five ways your customers say they are unhappy
'R' is for relationship
---
In some sectors – mobile networks or car insurance, for example – customer churn is a way of life. Most businesses like to hang onto their customers, but sometimes, although wooed with expensive marketing campaigns and introductory discounts, customers don't leave a note on the kitchen table or phone for a tearful it's-not-you-it's-me conversation: they just leave.
How can you stop them? Women's magazines are great at dishing out advice on how to prevent your relationship going sour. So here are The Register's top five tips for spotting that your best customer is about to run off with your rival.
All the tell-tale signs are there in your customer relationship management (CRM) data.
Impending defection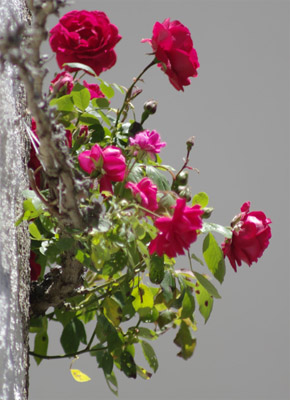 Beware of the flowers ...
A previously loyal high-value customer has scaled back business, either in frequency or in value over time.
To notice this you need to have analysed who your best customers are and how they normally behave. Then set exception alerts in the CRM software when their purchases fall below a certain threshold.
What action you take depends on your business and the type of customer, but you need to show them you care: call them; send them discount vouchers; send them flowers; ask what you need to do to keep the relationship good for both of you.
Quality issues
You are seeing more returns or more demand for support from a customer.
Again, whatever system you use to log customer complaints, returns or calls for support – whether CRM or help desk – needs to be configured to report these issues. And then the information needs to be transmitted to the right person for action.
Don't just blanket-bomb colleagues with email. Put a bit of thought into your alerts. An increased rate of returns on a specific product may be a sign of deteriorating quality. It could indicate a quality control problem within your own manufacturing process or that of a supplier.
Is it just one customer while the rest are happy with the same product? Maybe it's a problem with a new courier, for example, leaving goods outside in the rain instead of putting them in the right hands.
Sales people shouldn't be afraid to discuss these things with the customer. It may save the relationship – and their bonus.
Broken sales processes
Customers constantly generate exceptions by not following the right sales process.
High-street banks are great examples of this. Ideally, banks would like all their customers to interact with them via the web or ATMs, which is cheaper per transaction.
If you must talk to a human, they like you to phone a call centre in Mumbai. Please do not walk into a branch. Do you know how expensive it is to train a branch full of school-leavers?
Yet every day banks are full of people taking out £30 to buy groceries.
How do you change the behaviour of this kind of customer? You can refuse to serve them, or charge them for the more expensive service. But all that does is drive them to competitors.
Or, like NatWest, you can accommodate their recalcitrance by opening more branches, and use it as fuel for marketing ("helpful banking").
While keeping an eye on the cost of sales, aim to design processes that fit the way important groups of customers want to interact with you.
For example, customers that order and pay online don't need to go through the full sales process. Once you have checked their credit, you email them a receipt and dispatch details.
Unhappy with pricing
A customer is paying later and later, invoices are queried more frequently, the sales volume is dropping. Again, the CRM or financials need to be configured to flag up this behaviour.
It could easily be taken as a sign of impending delinquent payment. So run a credit check. Is the customer following the same pattern elsewhere or is it just with you?
A potential defaulter is a different creature from someone who is just grumpy about the VAT increase. One needs taming by credit control, the other needs stroking by sales.
Your own stupid fault
Let's say you have made a catastrophic mistake – sent the wrong order, sent it to a competitor, or exposed the customer's credit card details online. It is the equivalent of forgetting Valentine's day, your anniversary, your partner's birthday and Christmas all in the same year.
Bite the bullet. Don't hide the dirty secret in CRM notes. Make sure it is transmitted to an account manager who can eat the required portion of humble pie and has authority to offer a large discount (not to say bribe). Better still get the most senior person available – the chief executive if necessary – to apologise unreservedly and offer said bribe.
A problem dealt with well can turn an unhappy customer into a loyal one. ®