NASA's Messenger has returned the first photograph taken by a spacecraft circling Mercury, a tad under two weeks after it went into orbit around the solar system's innermost planet.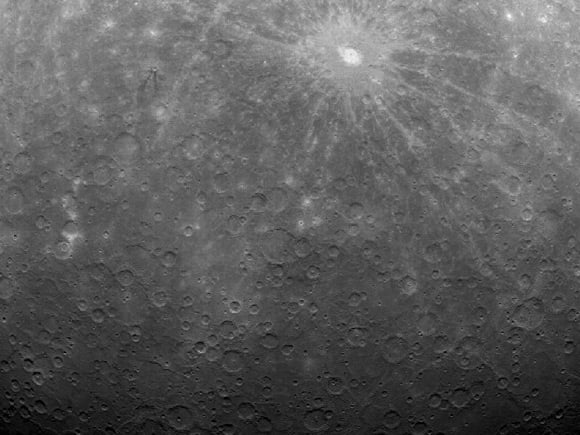 The agency explains* that the snap was taken at 09:20 GMT on 29 March, and over the next six hours, Messenger grabbed a further 363 images.
The spacecraft launched back in 2004, and subsequently made three fly-bys of Mercury before permanently taking up position above the surface. It's already imaged most of the planet's surface, and is now poised to "gather data on the composition and structure of Mercury's crust, its geologic history, the nature of its active magnetosphere and thin atmosphere, and the makeup of its core and the materials near its poles".
The mission's principal investigator, Sean Solomon, said earlier this month: "Despite its proximity to Earth, the planet Mercury has for decades been comparatively unexplored. For the first time in history, a scientific observatory is in orbit about our solar system's innermost planet. Mercury's secrets, and the implications they hold for the formation and evolution of Earth-like planets, are about to be revealed."
Because of the amount of fuel required for orbital insertion, Messenger's payload was limited to just 50kg. Despite this, NASA managed to cram in a rack of instruments.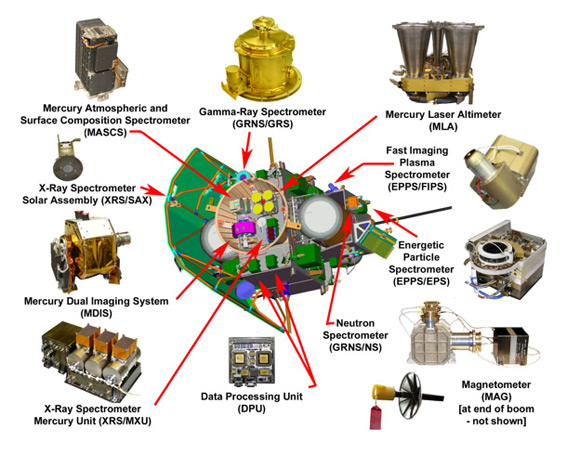 The spacecraft is currently in an "orbital commissioning phase" prior to beginning full operations over Mercury on 4 April.
Solomon enthused: "The entire Messenger team is thrilled that spacecraft and instrument checkout has been proceeding according to plan. The first images from orbit and the first measurements from Messenger's other payload instruments are only the opening trickle of the flood of new information that we can expect over the coming year. The orbital exploration of the solar system's innermost planet has begun." ®
Bootnote
* NASA adds: "The dominant rayed crater in the upper portion of the image is Debussy. The smaller crater Matabei with its unusual dark rays is visible to the west of Debussy. The bottom portion of this image is near Mercury's south pole and includes a region of Mercury's surface not previously seen by spacecraft."