Human heart could power an iPod
Pump up the volume
---
Scientists have developed the first commercially viable nanogenerator, which could pave the way for the human heart to become a charger for our electrical gizmos.
The nanogenerator device is a flexible chip with millions of zinc oxide nanowires that when flexed induce a piezoelectric effect, delivering a tiny amount of electrical current.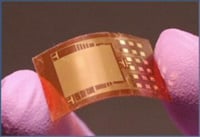 Researchers at Georgia Tech have been working on the prototypes for six years and say that if placed in the perfect arrangement within layers of polymer material, they could be flexed to generate and capture electricity.
The chips are roughly a quarter of the size of a postage stamp. Stack five of them on top of each other and they can be used to generate the same voltage as two AA batteries. This can be produced simply by squeezing them together with your fingertips.
"Additional nanowires and more nanogenerators, stacked together, could produce enough energy for powering larger electronics, such as an iPod or charging a cell phone." said Zhong Lin Wang, who heads up the research.
In a presentation at an American Chemical Society meeting in California, Wang said the device is 150 times more powerful than early prototypes.
"This development represents a milestone toward producing portable electronics that can be powered by body movements without the use of batteries or electrical outlets… our nanogenerators are poised to change lives in the future. Their potential is only limited by one's imagination."
Of course, actually implementing these devices as coronary iPod chargers isn't a top priority, but Wang's idea of a heart powered nano chip to run an implanted insulin pump is a more serious suggestion likely to get medical attention. However, in time, we could see such piezoelectric nanogenerators put in the soles of our shoes, or utilising movement from rolling car tyres, even harnessing wind to deliver additional sources of energy. ®