This article is more than 1 year old
Bowers and Wilkins Zeppelin Air speakers
iPod dock with AirPlay for high flyers
Review From a company whose flagship speakers will set you back £18k, but at least you get two of them, B&W's first iPod dock was met with high expectations when it was released back in 2008. Indeed, the Zeppelin quickly established itself as the model to beat in terms of distinctive styling and sound quality. The latest model is called the Zeppelin Air, as it includes Apple's AirPlay streaming technology, but it's also had a ground-up refit, with new electronics and speakers throughout.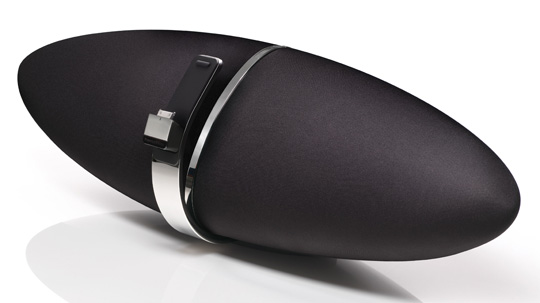 Ballooning sales? Bowers and Wilkins' Zeppelin Air
At first glance the Zeppelin Air looks much the same as its predecessor – a squashed rugby ball with a metal iPod dock cradle protruding from the front. It's exactly the same size – 198 x 640 x 208mm, but a little lighter at 6.2kg, the original was 7.5kg. The difference in weight is largely due to the slightly smaller midrange drivers which are now 75mm instead of 90mm, and apparently deliver better dispersion.
Around the back however, it's lost that silvery metal rear plate, replaced with an altogether more discreet black plastic panel. There's a pair of speaker ports and connections for Ethernet, USB (for upgrades, replacing the S-video output), 3.5mm aux for non-Apple players and composite out for video playback on a TV.
B&W claims this is no simple redesign, but a complete overhaul, with improved amplification and digital signal processing. The five-speaker layout is the same, but as well as the 125mm, 50W subwoofer, the new 75mm, 25W midrange drivers are also joined by a brace of brand new 25mm, 25W Nautilus tube aluminium tweeters – the same as those on Bowers & Wilkins' (as they prefer to be known these days) more recent MM-1 computer speakers.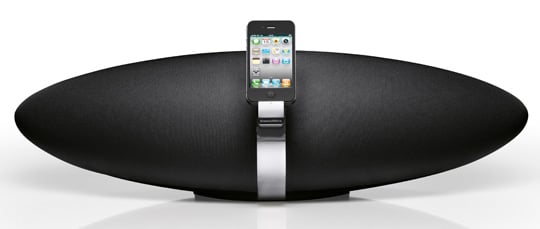 Works wirelessly with Airplay or as a conventional dock
Each of the drivers now has its own dedicated class D amplifier – the old version had three amps to drive all five speakers – and the internal DACs have been upgraded to 24bit-96kHz capability.