A patent application published on Thursday reveals how far Apple has progressed on melding iOS's multi-touch interface with Mac OS X, and hints that the Mac operating system's multiple-workspace feature, Spaces, may find its way onto the iPad.
The application, entitled "Device, Method, and Graphical User Interface for Manipulating Workspace Views", deals with manipulating multiple workspaces through multi-finger touch gestures.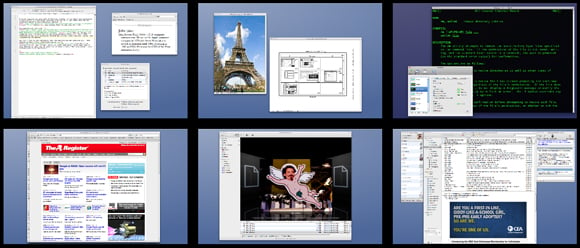 Mac OS X's Spaces feature allows you to view and select from multiple concurrent workspaces
Rather than manipulating Spaces using your keyboard or mouse as Mac OS X now requires, however, the filing envisions using multi-touch, multi-finger gestures to summon the Spaces view, move windows from workspace to workspace, and select which one to fill the display.
"Why bother?" you might ask. Well, according to Apple, using a mouse or keyboard to manage Spaces is "cumbersome and inefficient", requiring "selecting an icon or other small graphical user interface object with a cursor," or "remembering unintuitive keyboard shortcuts". Such actions are not only "tedious and create a significant cognitive burden", they also "wast[e] energy" which is "particularly important in battery-operated devices".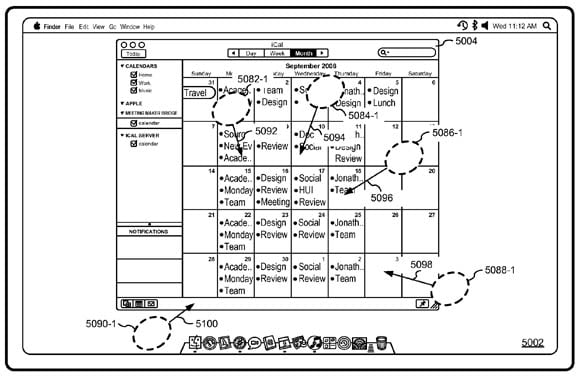 Place five fingers on your Mac's multi-touch display or control surface ...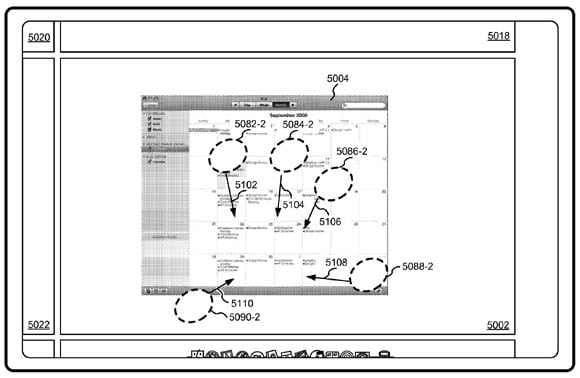 ... pinch them together and the workspace will begin to shrink ...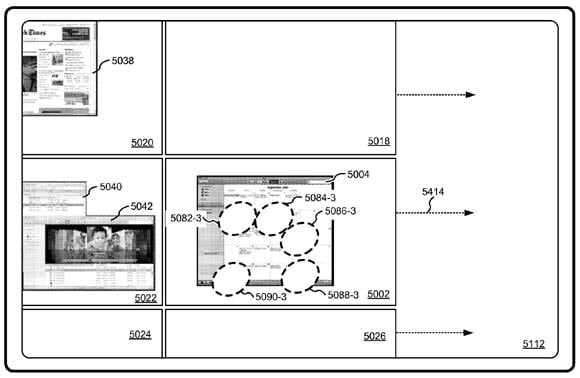 ... until all the active workspaces appear in a Spaces view.
The filing goes to great lengths to describe in detail the configuration and capabilities of an iOS device, but when it details – also at great length – multi-touch multiple-workspace interaction, including 33 illustrations, those illustrations are clearly those of a Mac OS X device.
Only after the 63-page filing finishes explaining each and every one of those illustrations in excruciating detail does it say that "although the preceding examples have been given with reference to a touch screen display, in some embodiments the display and the touch-sensitive surface are separate."
That separation of display and multi-touch surface would follow Apple CEO Steve Jobs assertion that traditionally vertical Mac displays are unsuited for multi-touch use. When discussing multi-touch interfaces during his Mac OS X Lion introduction last October, Jobs said: "We've done tons of user testing on this, and it turns out it doesn't work." His conclusion: "touch surfaces want to be horizontal."