This article is more than 1 year old
WTF is... 3D printing
Roll your own
Head along to London's Design Museum and you'll find a remarkable shoe on display until August. Called the Melonia Shoe, it's perhaps not what most Reg Hardware readers would wear, but it is remarkable, not so much for the design, but because it was printed by Belgian product prototyping company Materialise and Sweden-based designers Naim Josefi and Souzan Youssouf.
On a grander scale, EADS in Filton, near Bristol, is using printing techniques to create titanium landing gear brackets for aircraft. It hopes soon to be able to print a whole wing.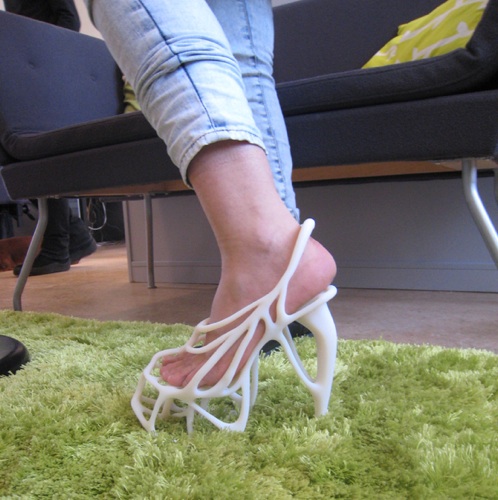 If the boot fits: the printed Melonia Shoe
But while both may be referred to as '3D printing' there's a world of difference between the two processes, and they're not the only ways of creating real objects from a three-dimensional computer model. So, just what is 3D printing?
It's something of a catch-all term, used to describe some very different technologies, and encompassing things like stereolithography, rapid prototyping and "additive manufacturing". But at heart, what the name conjures up is the image of a device that, once fed the right instructions, can churn out any object that you want, from shoes to aircraft parts.
In reality, that's still some way off. While there are some machines that can use two print heads to lay down, for instance, conductive tracks as well as polymers, creating objects that use several materials, or that emerge as fully formed machines rather than components is some way off.
How does 3D printing work? The phrase 'additive manufacturing' gives the best clue: objects are built up layer by layer, based on an template created with design software.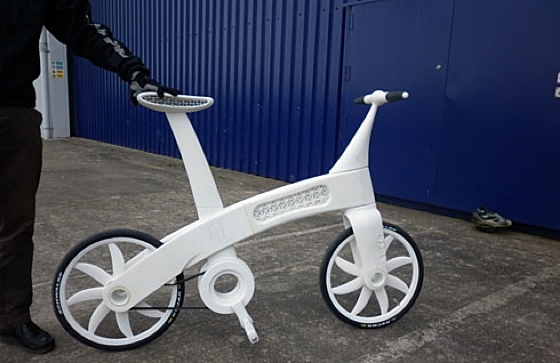 EADS' airbike: printed from nylon powder
Imagine an inkjet printer. If it were laying down a thin layer of plastic, instead of ink, the resulting image it would represent a slice through an object. Now, if the printing surface is dropped down by the thickness of a layer, successive layers can be printed on top of each other, and the end result is a three-dimensional object, created by adding material in layers than can be below two hundredths of a millimetre in thickness.