The European Space Agency (ESA) has released a fetching composite image of a couple of Martian volcanoes, one of them caught with "icy clouds" drifting past its summit.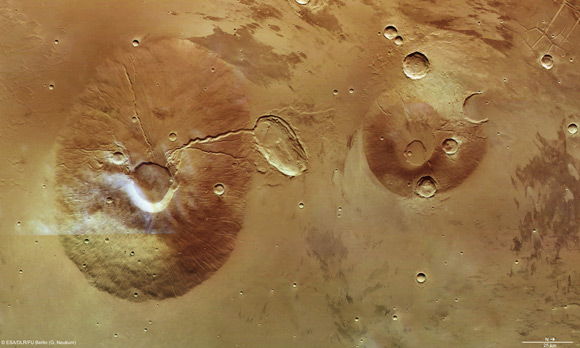 The two volcanoes, dubbed Ceraunius Tholus (left) and Uranius Tholus were caught on camera by the Mars Express spacecraft in three passes between 25 November 2004 and 22 June 2006.
The second orbit grabbed the central strip of the image, complete with Martian mist, which wasn't there on the third pass, hence the sharp horizonal cut-off in the image.
Ceraunius Tholus and Uranius Tholus lie in the Tharsis region at around 25°N, 263°E. Ceraunius is 130 km (81 miles) across at its base, rising 5.5 km (3.4 miles) above the Red Planet's plains. Uranius's base extends 62 km (38.5 miles) and its peak reaches 4.5 km. (2.8 miles)
Lying between the two is the elongated Rahe crater, caused by an oblique meteorite strike, into which runs a substantial incised valley down the flank of Ceraunius Tholus.
ESA says this might have been formed by water from melting ice inside the volcano's caldera, and notes the crater is "flat and smooth", suggesting it once contained a lake.
The agency has more, including 3D images of the volcanoes, right here. ®
Sponsored: Webcast: Ransomware has gone nuclear