OS X with complications
The launcher/dock is a fine example thanks to bad workflow in Unity. Sure, it has great keyboard shortcuts but what if you want to do something as basic as make the dock smaller or resize icons? Initially there was no way to do it. Now there's a patch to enable such basic features, but the fact that it was only an afterthought gives you a glimpse of how far behind the needs of everyday users Unity really is at this point.
Or, how about another basic function like adding a new application to the dock? You might assume you could simply drag an app icon from your application menu into the dock, after all, that works in Windows and Mac OS X. Unity, however, has something a bit more complex in mind - first you'll need to open the app, then you'll need to right-click the icon in the dock (assuming your right click works, which, if you have a Synaptics trackpad, it may not) and then choose "Keep in Launcher." Yes, it's not that hard, but it's also three steps more complicated than every other OS on the market.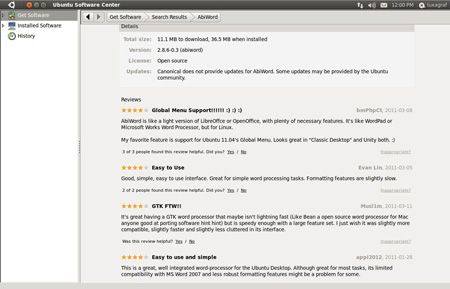 The Software Center now offers user reviews of apps
There's also the familiar looking GNOME-like bar at the top of the desktop, which looks like a GNOME bar, quacks like a GNOME bar, but is definitely not a GNOME bar.
Want to add something to the main window, say a weather app or maybe news ticker? No dice. The Add to Panel option is gone. If you want to add something to the global menu bar you'll need to install the appropriate indicator app. Over time perhaps more GNOME panel apps will be ported to the new Ubuntu format, but for now it's slim pickings and the process is far more awkward than it was in GNOME 2.x.
Another step backward in this release is the more intensive graphics requirements. Much of what's good in Unity comes from OpenGL, which doesn't work with every graphics card and chipset. If your PC isn't up to snuff there is Unity 2D, a kind of backport of Unity's features without the graphics overhead. It's not the default option for less capable PCs, but Unity 2D is in the Software Center if you'd like to try it on older hardware.
Beta releases are never fully stable, but this is the first Ubuntu beta I've tested that routinely suffered from application crashes. For example, Banshee was so unstable it took ten tries just to keep it open long enough to grab a screenshot for this review. The problem doesn't seem to be with Banshee since it works just fine on Ubuntu 10.10.
Similar problems plagued LibreOffice (Ubuntu's new default office suite) and the Workspace switcher, which only worked about half the time in my testing. Compiz is similarly unstable.
Back to Classic
If Unity strikes you as half-baked there is, thankfully, the Ubuntu Classic desktop option. Essentially GNOME 2.32, the Classic Desktop option nevertheless includes at least one Unity feature - the global menu.
Ubuntu has always offered a bit more polish to its interfaces than other Linux distros, which is perhaps part of the reason this beta feels so woefully inferior to its predecessors. Unity has potential, but it's tough to escape the feeling that it just isn't ready yet.
Ubuntu's drive to bring something radical and new may end up creating another KDE 4 situation - the initial release was clearly not ready for prime time, but now that KDE has matured few would opt to go back to KDE 3.x.
Hopefully Canonical will sort out the various bugs before the final release, but even if they do, missing features may well make Ubuntu 11.04 a release best waited out. ®