US Army inks $66m deal for Judge Dredd smart-rifles
'Airburst stun bomb!' 'Armour piercing!'
The US Army's futuristic Judge Dredd style computer smart-rifle project, the XM-25, is moving ahead. Developer ATK, which has so far made just five prototype weapons, inked a $65.8m deal this week to move the weapon into manufacturing.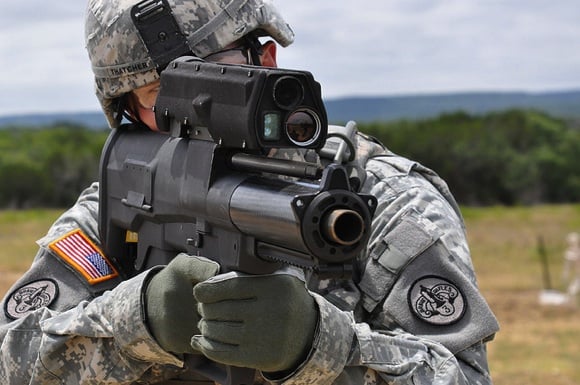 "Freeze, perp! All right, you asked for it. Airburst stun bomb!"
The XM-25 works much as a normal rifle does, but instead of firing ordinary bullets it shoots 25mm exploding fragmentation mini-shells which are fitted with a very precise time fuse set at the moment of firing by the gun's electronics.
The weapon also boasts a very sophisticated thermal-imager sighting system equipped with a laser rangefinder/pointer, temperature and pressure sensors, and a ballistic computer. This permits a soldier to adjust his aim almost instantly so as to make a 25mm shell fly out to exactly the desired spot and explode precisely there.
This allows an XM-25 smartgunner to hit enemies lurking around corners, in trenches or behind boulders. The weapon's shells explode above the enemy's head or just past the corner, riddling him with shrapnel even though the direct line of sight from gun muzzle to target is blocked by a hard obstacle.
For now, were Judge Dredd to pluck an XM-25 from his Lawmaster's saddle holster rather than a Lawrod or Widowmaker longarm, he would be limited to exclaiming "high explosive!" or perhaps "frag shell" before firing, this being the only type of ammo currently available. However, the US Army's Program Executive Office - Soldier, in charge of the XM-25, has previously suggested that other ammo types may be developed in future. These would include door-breacher rounds, "flash-crash" stun warheads, a shaped-charge armour penetrator and rubber or plastic riot bullets.
There might also be a flechette or canister option, able to fling a cloud of projectiles straight out of the barrel like a shotgun or CAWS - or perhaps make use of the gun's airburst capability to deliver a spread of darts or mini-grapeshot at long distance.
US troops in Afghanistan, who are trying out the initial five prototype weapons, apparently don't favour Judge Dredd references. They have reportedly chosen to dub the new smartgun "the Punisher" instead.
Feedback from these users has apparently been positive, with the AM-25's ability to strike out accurately and speedily at Taliban snipers or machine-gun teams lurking in cover at long range highly prized. The soldiers don't much care for the gun's battery system, however, which reportedly has the same flaws as an iPhone's: it can't be swapped for a new one and must be plugged in to charge up. ATK are apparently to sort this out as the design develops.
The new engineering and manufacturing development deal is to run for 30 months. ®