Season of TV shows blown out of cloud... for good
Someone forget to tick the back-up box
---
A US cloud storage provider is being sued because it did not provide a recoverable backup of TV show files deleted by an aggrieved ex-employee.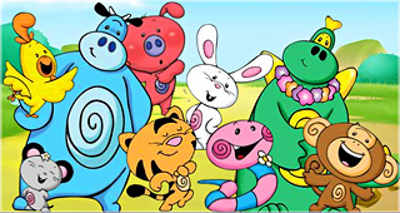 F-A-I-L spells... fail!
CyberLynk, headquartered in Wisconsin, was used by a Hawaiiian TV show production and distribution company, WeR1 World Network, to store episodes of its children's TV show, Zodiac Island. The files were the result of two years' of work by hundreds of people from dozens of companies, and included animation files, soundtracks, storyboards and videos.
CyberLynk had fired an employee called Michael Scott Jewson and, according to a Honolulu courthouse news report, one month after being given the boot, Jewson accessed CyberLynk servers and wiped out 304GB of data, including 14 Zodiac Island episodes, a full season of the show.
WeR1's claim against CyberLynk says that Adam Hobach, CyberLynk's president, admitted to Ingrid Wang, WeR1's CEO, that not all the data could be recovered. Oops. If true, this means CyberLynk let a fired employee back into its systems – FAIL! – and did not have an offline or off-site backup of the data, such as a tape library: double FAIL.
Jewson appears to have admitted what he did and offered to pay restitution, but WeR1 says he can't pay what they will lose. Zodiac Island's first season ran in the 2008-2009 period and more than 100 US TV stations featured it, so we're talking big bucks by an individual employee's standard.
Interestingly CyberLynk does offer backup services and promotes the idea of its users making local backups too:
If you use your computer to create and save valuable data for business or personal reasons, you should make some type of backup of your important data to prevent a total loss in the event of any kind of system failure or human error. Simple data backup can be done by saving your data to multiple locations, copying the data from its original location to removable media, another hard drive, or another computer's hard drive on the network.

To make this task easier, specialised programs known as Backup Software exist to aid users in regularly making a backup copy of their data. Since some users are not interested in managing the tasks necessary for maintaining their own backups, a new breed of backup software was created, known as Online Backup Software. Online Backup software is designed to routinely copy your important files to a private, secure location on the Internet by securely transmitting your data over your existing Internet connection.

If you have a working internet connection on your computer, you can use CyberLynk's Online Automatic Data Backup Service to keep your important files safe from disaster on a daily basis, or you can find one of our many certified partners around the world.

... Automatic Data Backup includes client and server software. The client software can be installed on any Windows XP, Vista, 2003, 2008 and Windows 7 (Windows 7 will be supported in July 2010) computers. The Automatic Data Backup Client software communicates to the Automatic Data Backup Server using the TCP/IP protocol.
Without seeing the details of the contract between WeR1 and CyberLynk it's not possible to say unequivocally where the blame lies and how it should be apportioned. We could offer the thought that if WeR1 did not check that CyberLynk was making offline backups of its Zodiac Island data then perhaps it should have done. ®