The Osborne 1: 30 years old this month
We remember the first commercial portable PC
Unpacking the portable
Designed to fit in the space under an airline passenger seat, the Osborne 1 was built out of tough ABS plastic which held its two 5.25in floppy disk drives - each mounted above a disk storage shelf - and a 5in, 52-character by 24-line CRT display, all revealed when the lid was opened.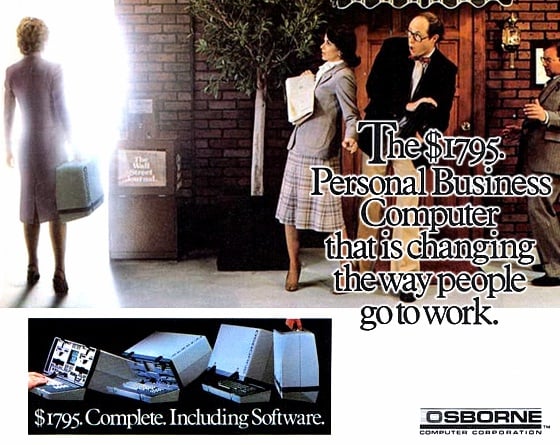 The 69-key keyboard was built into the lid, which could be unlatched. The keyboard connected to the main unit over a curly phone cable.
Beneath the two drives and the screen were the Osborne 1's ports: an IEEE 488 parallel port and an RS-232 serial connector. Behind all this was the motherboard and integrated mains-fed power transformer.
With no battery on board, the Osborne was a computer you took to work rather than one that allowed to you work anywhere.
The Osborne 1 ran the CP/M 2.2 operating system on a 4MHz Zilog Z80 processor. It had 64KB of memory, considerably more than most home computers of the time.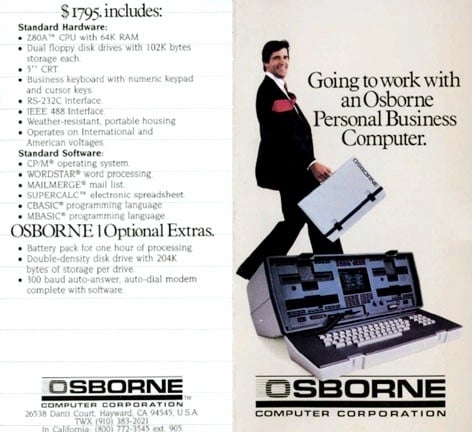 Priced at a hefty $1795 then - the equivalent of $4349 (£2669) now, thanks to inflation - the Osborne 1 packed an impressive software bundle, including Microsoft's Basic interpreter, Ashton-Tate's dBase II database, sales ledger apps from PeachTree, Sorcim's SuperCalc spreadsheet and MicroPro's WordStar.
It wasn't just a business machine: Osborne also chucked in a copy of Colossal Cave and Infocom adventure Deadline.