Steven Moffat promises 'darker' Doctor Who
Kids definitely behind sofa for new season
Steven Moffat has teased that the forthcoming new series of Doctor Who will kick off with episodes "darker than any other opener of a season".
Speaking to journalists at the launch of the the new episodes, Moffat said: "We've been pretty dark before in Doctor Who. But we're coming in from the dark side just because we haven't done it that way before."
The Impossible Astronaut and Day of the Moon see Matt Smith reunited with Alex Kingston's River Song, Arthur Darvill's Rory and Karen Gillan's Amy Pond for "one of the show's most mind-blowing and visually arresting adventures ever".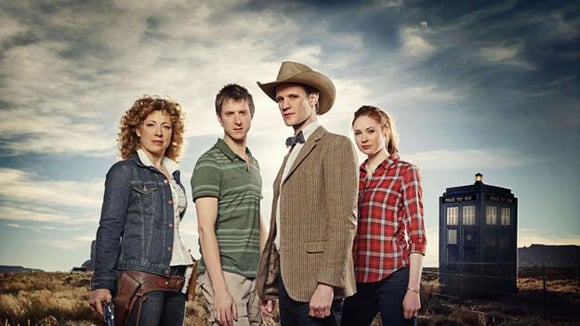 The four, "aided by President Nixon and Neil Armstrong's foot", battle "an alien force who control humanity through post-hypnotic suggestion".
The BBC explains that while the aliens threatening 1960s America are "partly inspired by Edvard Munch's The Scream", Moffat doesn't think they're excessively behind-the-sofa.
He explained: "First of all, you make Doctor Who frightening to appeal to children. It's the children who find it frightening, not the adults. Children absolutely rank Doctor Who stories in order of frightening-ness - that's what it's about.
"You put the jokes in and the silly bits in for the adults and you put the scares in for the kids. I've got two kids of my own and I'd never do anything I didn't think was acceptable for them. Having said that, one of them does tend to sleep on our bedroom floor."
The new series is being split into two for the first time. Seven episodes will run from 23 April, but viewers will have to wait until the autumn for the last six.
Moffat said: "If you run for 13 weeks you can start to feel as though you can miss one episode and it'll be okay. We don't want that feeling. We stop for a few weeks and let you all worry about what's happening and then come back."
The official Doctor Who site has more on the new series here. ®