This article is more than 1 year old
Marantz Melody Media music combo
AirPlay savvy stream machine
Review Apple's AirPlay audio streaming facility is beginning to trickle out to an increasing range of devices, but Marantz took it to market first with the Melody Media – an enticing box of audio tricks, which includes a CD player, FM/AM/DAB+ tuner and Internet radio plus a 2 x 60W amplifier.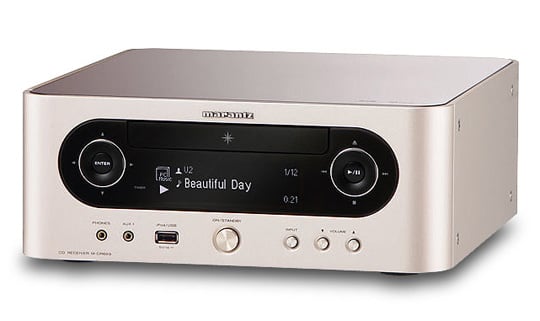 The Marantz Melody Media features Apple AirPlay as an upgrade option
Part of a group of one-box Melody players from Marantz – which includes the Music and the multichannel, Blu-ray capable Movie – the Media's trick is that you can connect it to a network to stream your music from a computer or Nas drive. It also has the added bonus of AirPlay, which makes it easy to take your music anywhere around the home using Apple iTunes.
One thing the Melody Media lacks, however, is a built-in Wi-Fi connection. The company prefers to steer you towards networking with a direct Ethernet connection to your own Wi-Fi box, or from a powerline connection, rather than offering built-in Wi-Fi. However, if you're set on wireless, Marantz suggests alternatives such as Netgear's WNCE2001 adapter, which acts as a Wi-Fi bridge for Ethernet gear and costs around 50 quid. There's also an official RX101 Bluetooth adapter option at an eye-watering £110, which supports streaming music from a mobile phone and other devices, but apparently won't stream audio from the Melody Media to a set of Bluetooth headphones.
It's a good-looking little system, available in black or silver – a compact box with a large, three-line LED display. The front panel controls will take you through most functions, and it also comes with a remote. There's also a couple of 3.5mm jack sockets on the front for aux input and headphones. The tray-loading CD player can handle MP3 and WMA-encoded discs and the USB port at the front can also be used to play back tunes stored on a memory stick and you can also plumb in an iPod here too.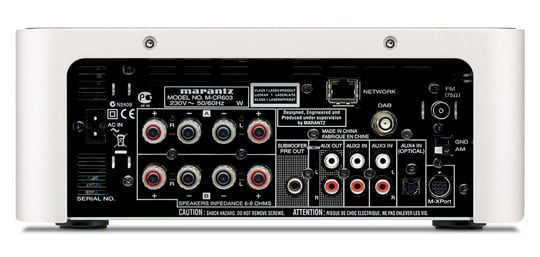 Plug and play
There are no built-in speakers with the Melody Media so you'll need to supply your own or pay an additional £110 to get the package that includes the LS502 Melody speakers. There are two sets of speaker binding posts on the back, so you can power sound to two different rooms (though you can't pump different music to each), and there are also analogue audio and optical digital inputs, as well as a subwoofer pre out.