One basket only? Proceed to self service
Making the best of a long tail
In tough economic times having lots of customers to sell to can give you a warm fuzzy feeling. But how many of them bring any real value? That warm glow could soon turn to a cold sweat of panic when you see how much it costs to sell to the low-value customers.
"The segmentation of customers is vital," says Dale Vile of the analyst firm Freeform Dynamics. "Not just to lower the cost of sale, although that is important, but also to work smarter and be more effective."
The question is, are the bulk of low-value customers buying enough to justify the cost of sale? If not, what do you need to do to make them more profitable?
"In some retail settings, 80 per cent of your customers may buy from you only once a year," says David Beard, CRM evangelist at Sage. "But if you're clever you can direct them to the most cost-effective channel, which is likely to be self service on the web."
Orders on tap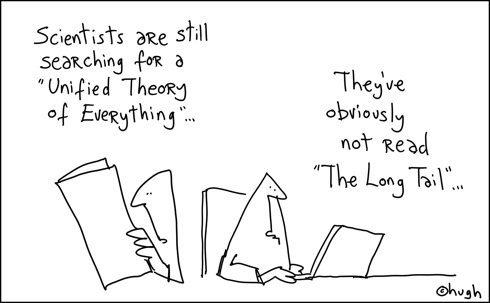 Lowering the cost of sale this way can make the long tail attractive. For example, manufacturer Scolmore International carries more than 5,500 stock lines in its Click lighting and electrical range.
As part of Scolmore's upgrade to a Sage ERP 1000 financial system, reseller CPiO installed its Intellisell solution, which can suck product information and pricing directly from Scolmore's Sage system and upload it to the web site.
"Our customers could log on and see their own prices with a web discount applied, view stock levels and place orders directly with us via our Sage system," says Steve Taylor, general manager at Scolmore.
Previously, trade customers ordered from Scolmore by fax and were happy to switch to online ordering. "In just three months Scolmore's online sales went from approximately eight per cent of our total revenue to 44 per cent. It was an incredible success," says Taylor.
Of course, a web ordering system is hardly news, but what makes this so efficient for Scolmore and its customers is integration. Inventory, discounts and invoicing are all in the self-service realm. Information that was once the sole preserve of the company has been turned inside out so customers can help themselves.
It doesn't have to be just about purchasing to make a difference to profitability, as can be seen on the Orange website in another example of turning things inside out.
Inventory, discounts and invoicing are all in the self-service realm
Talk to the hand
Here the mobile operator has provided customers with a cleaned up version of the walk-though simulations used by its technical support team when customers call with queries.
Let's say you want to know how to set up mobile email on a Nokia E5. You just choose your phone, then the app you're struggling with and follow the steps one by one.
The system isn't selling anything but it is keeping down the number of technical support calls, which threatens to balloon as phones become increasingly sophisticated.
When you buy a new Orange phone, you get a text promoting the service. You can still phone with a query if you'd rather to talk to a human being.
But for those used to helping themselves it means no more waiting in a call queue. And just browsing the hints and tips shows you features you may not have known were there.
Believe you can fly
Another less-than-obvious self-service application can be seen in the way the Bristol Flying Centre sells flying lessons.
All wannabe flying aces are issued with a magnetic strip card, produced in-house. This contains their seven-digit Civil Aviation Authority identifier, which becomes the account number for their lessons.
"Our customers want to be in the air as soon as possible," says Michael Black, financial director of Bristol Flying Centre. "Time on the ground is time wasted."
Customers simply swipe their card through the touch-screen terminal every time they have a lesson on the simulators or aircraft. Once the lesson is over, the instructor goes into the system, pulls up the student's record and updates it.
Students then hand over their student card to confirm the flight details and charges. This completes the billing process and ensures that before students do any more training they know their current account balance.
"Being able to bill instantly for any outstanding amount has obvious advantages for our cash flow, too," says Black.
Students also have a comprehensive personal record of the flights they have completed.
"In effect, we've improved customer service through automated self service. The touch screens give a clear, visual record of users' training activity, with the up-to-date balance on their account," says Black.
Self service can increase profitability and, as these examples show, it can even improve customer satisfaction. ®