Mirror image
In addition, the iPad 2 can also provide video mirroring, so that you actually see the full iPad screen on your HD TV as well. This allows you to view apps that don't have their own video output capabilities – such as Angry Birds or the Safari web browser – on your TV as well. However, using mirroring means that the 1024x768 resolution and 4:3 aspect ratio of the iPad screen will be pillarboxed when displayed on a widescreen HD TV.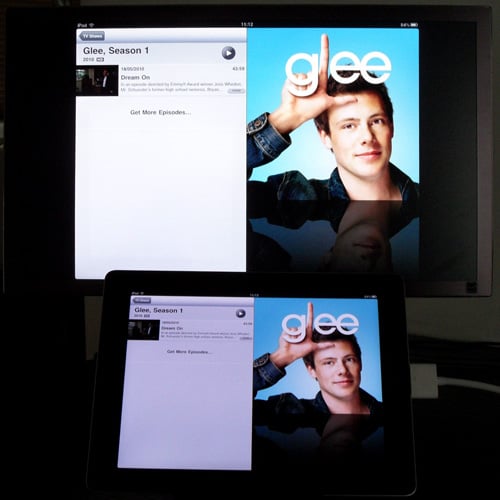 iTunes browsing - the iPad TV image is pillarboxed; showing black bars to the sides of the display
The original iPad, iPhone and iPod Touch don't support video mirroring, so they can only use the Digital AV Adapter to display the output from apps that do have their own video output capabilities. Gaming apps such as Firemint's RealRacing 2 are in development that will allow control functions to appear on the iPad or iPhone while the main screen action appears on the TV.
While you might have to wait a while for that level of functionality, I was still pretty impressed that I was able to carry around some HD episodes of Misfits and Glee on my iPhone and play them on a nice big HD TV when I wanted to – it was the Joss Whedon episode of Glee, which makes it OK, right?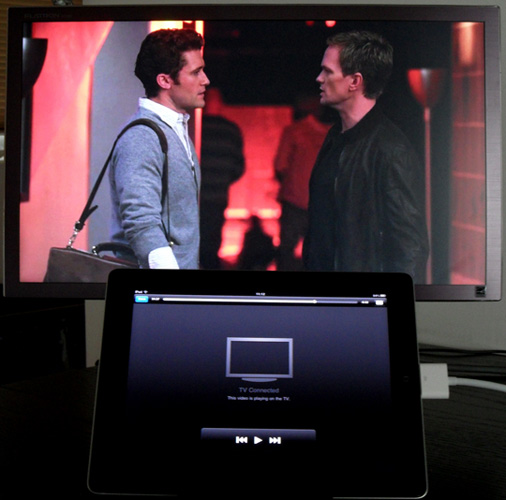 Video playback
For the most part, the Digital AV Adapter worked as advertised. The video output is automatic, with no settings to adjust on the iOS device, and I had no complaints about the quality of its video output.
Similar topics