Richard Branson to prowl oceans' hadal depths in flying sub
Virgin Oceanic – coming soon to a trench near you
Sir Richard Branson has set his sights on conquering the world's oceanic depths in a revolutionary carbon fibre and titanium "flying" submarine.
The Virgin supremo's Virgin Oceanic project will encompass five dives over the next two years to "the deepest part of each of Earth's five oceans".
The submarine is described as "the only piloted craft in existence that has 'full ocean depth' capability". Designed by Graham Hawkes, the "Deep
 Flight 
Challenger" was originally commissioned by Branson's pal Steve Fossett, and the former "intends to finish what his friend started and then go on to help explore and unlock the wonders of the oceans still unknown to humankind or science".
Virgin Oceanic explains: "The one person sub has an operating depth of 37,000ft (7 miles) and is capable of operating for 24hrs unaided. Once fully descended, the submarine's hydroplanes (the equivalent of wings for submarines) and thrusters will allow it to 'fly' up to 10km over the ocean floor whilst collecting video and data, something submersibles could only dream of."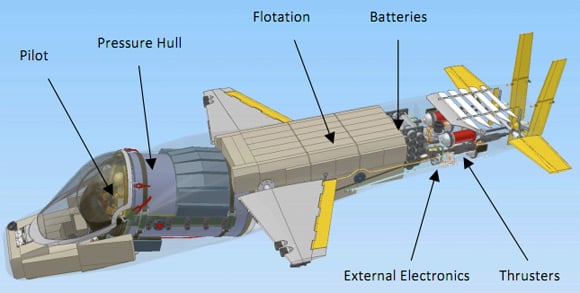 The vehicle's maximum speed is 3 knots, with a cruise cruise speed of 2.2 knots. Its descent/ascent rate of 76 metres per minute (350ft p/m) should allow it to achieve "full ocean depth and back" in five hours.
Steve Fossett's monster racing catamaran, the 125ft Cheyenne, has been converted to act as mothership for sub operations – a suitably planet-hugging means of transport in keeping with the Deep
 Flight
 Challenger's eco credentials.
Graham Hawkes' blurb (3-page PDF/775 KB) explains: "
Instead
 of
 using
 massive
 arc 
lights,
 typical 
of
 conventional 
submersibles, 
which
 undoubtedly 
blind 
most 
of 
the 
deep 
water 
species,
 Deep 
Flight
 Challenger 
uses
 low
 wattage 
LED 
lights 
and 
laser
 'feeler' 
beams
 to 
aid
 the
 pilot's 
navigation.
 Additionally, 
the 
sub emits minimal noise 
and
 electrical
 currents
 so
 as 
not
 to
 disturb
 the
 marine 
life/environment
 it
 works 
in."
First up on the hadal descent roster is a trip to the bottom of the Mariana Trench, 11,033 metres (36,201ft) beneath the surface of the Pacific. At the controls will be pilot Chris Welsh.
Branson himself will take the helm for the second dive into the Puerto Rico Trench, 8,605 metres (28,232ft) down, conveniently close to his home on Necker Island in the British Virgin Islands. The three further excursions will take in the sights in the Molloy Deep in the Arctic Ocean, South Sandwich Trench in the Southern Ocean (Antarctic) and Diamantina in the Indian Ocean.
Both Branson and Welsh are aware that "should anything go wrong, there is no rescue team that can reach them". Virgin Oceanic notes that the sub's quartz cockpit "dome" alone is "under 13 million pounds of pressure, the weight of three space shuttles", so it's safe to say there won't be much left if the pressure hull fails at depth.
Before braving the depths, the Virgin Oceanic team will do three months pressure testing to ensure their sponsor doesn't get squashed. In anticipation of a successful outcome, Branson said: "There is just so much to explore, so much to discover. We are going to obviously come across some fascinating creatures and learn some fascinating things that will hopefully be useful for mankind." ®