Google is plugging away at developing a tablet version of its browser-based Chrome OS it originally discussed in February 2010, but details remain scant despite recent changes in the Chrome OS source code.
"We are engaging in early open-source work for the tablet form factor, but we have nothing new to announce at this time," a Google spokesman told Cnet, which uncovered changes in the Chrome OS source code it says appeared in March and April.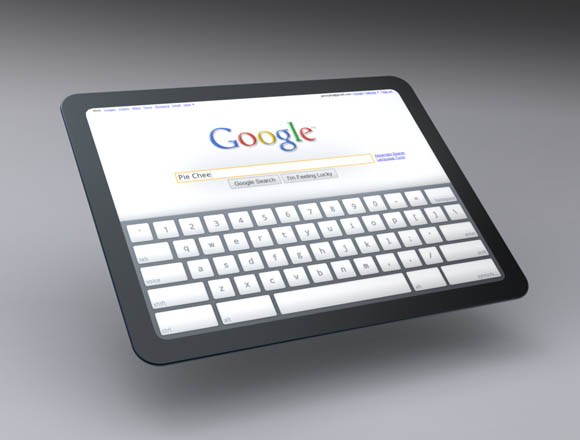 Google's 2010 concept illustration for a Chrome OS tablet interface
The new tablet-centric elements include tablet-specific on-screen keyboard keys drawn in scalable vector graphics, the ability for web servers to detect the tablet and then supply the appropriate touch-based web page, and tabs and other interface elements that are optimized for touch.
Cnet also points to one page on Chromium.org that describes the rotation of tablet elements and notes that "apps will be reflowed when rotated (like iPad)."
In July 2009, when Google first revealed that it was working on a browser-based operating system, it targeted Chrome OS at netbooks. In February 2010, however, it released a set of tablet-based UI concepts for Chrome OS, including a downloadable concept video.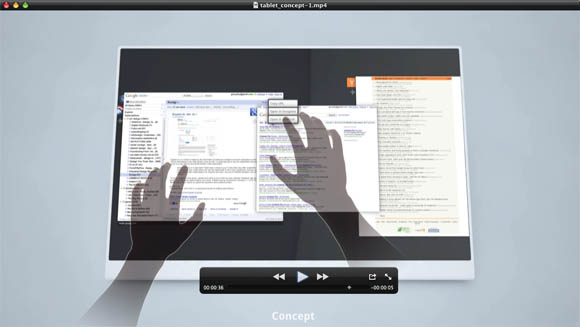 Google's 2010 concept video for a tablet version of Chrome OS left much to the imagination
Even before Google's February reveal, however, rumors were already beginning to swirl around the intertubes about Googly tablets. That January, for example, Australian rumblings said that Google and HTC had been working for 18 months on a touch-screen tablet.
Mountain View fondleslab rumors were juiced in April when Google scooped up chipmaker Agnilux for its mobile-processor smarts. Meanwhile, Chrome OS, which was originally supposed to be released in fall of last year, slipped – despite rumors last November that it was about to appear Real Soon Now.
Then Android – which was originally to be for smartphones – turned into a tablet OS (and one that Google is resisting open sourcing). Now Chrome OS – which was originally to be for netbooks – is turning into a tablet OS, as well.
And – just for fun, we can only assume – Google has also said that Chrome OS and Android will merge. Someday. Eventually.
Chrondroid, anyone? Or would you prefer Androme?
Whatever the Chocolate Factory eventually comes up with, it'll run on a tablet. That's the market, after all, where the New Hotness tempts "normal people" – at least according to Steve Wozniak. ®