This article is more than 1 year old
Seven... SSD sizzlers
Speed-boost upgrades for your laptop
Product Round-up While there's no escaping the fact that solid-state drives are still expensive, they are steadily getting cheaper and the capacities are increasing. For the average PC user to be convinced that it is a must-have upgrade, the performance benefits would really need to be experienced.
Costs aside, no doubt concerns as to whether a system would actually benefit significantly from installing an SSD without the latest and greatest I/O bus is another factor and an area that this round-up examines.
To give you an idea of what's out there that can deliver those super sweet performance numbers, without draining your savings, this round-up looks at mostly 128GB drives with a focus on Sata 2 performance measured with Crystal DiskMark. If budget is of no concern to you, a couple of the latest Sata 3 models are included for good measure.
Corsair Force 120GB

Corsair doesn't include any additional kit, just the 3.5in adapter plate and accompanying screws should you wish to use the drive in a full-size tower. No additional software or accessories. The Vertex 2 packs an SF-1200 controller from SandForce. In the past several manufacturers have used this controller with great success, such as OCZ, Patriot and, of course, Corsair. Despite all the praise it received, the SF-1200 is an early 2010 design and as such now seems to show its age, unable to see 200MB/s in any operation, things aren't looking so good. It does, however, still perform fantastically with smaller operations, ousting most of the competition except some of those featuring newer Marvell controllers. If you're looking for a more affordable low-capacity boot drive then these models are a great choice, but they're certainly not top of the charts anymore.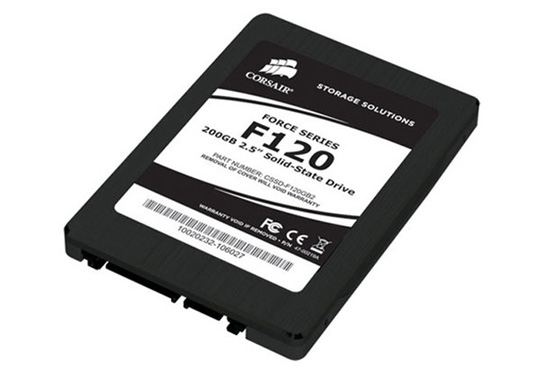 Reg Rating 75%
Price £170 (120GB), £250 (160GB)
More Info Corsair