Server minimalism
The same minimalist design philosophy applies to the two motherboards that Facebook designed in conjunction with Quanta Computer, the Taiwanese ODM, which is also a PC and server maker in its own right. Facebook's workloads don't require a lot of peripheral expansion, so unnecessary slots are removed. The motherboards have CPU and memory voltage regulators that have in excess of 93 per cent efficiency, and the chassis is equipped with a power supply that runs at 94.5 per cent efficiency.
There's a 277 volt main power input and a 48 volt power input from backup batteries that are adjacent to the triple-wide 42U rack. That battery power is just to give Facebook's systems time to cut over from main power to generators without crashing in the event of a power failure.
Here's what the rack looks like: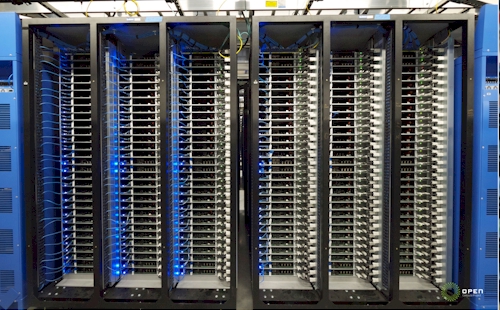 The Facebook Open Compute triple rack
The triple rack has two top-of-rack switches at the top and can house 30 of the Open Compute servers in each column, for a total of 90 servers.
For the moment, Facebook has two motherboards, one based on Intel processors and chipsets and the other based on chips from Advanced Micro Devices. These machines are not, as we were speculating, micro servers, but as we pointed out ahead of the Facebook launch, the company's Facebook Lab has only begun testing micro servers and did not expect to roll them until later in 2011 or 2012.
The Intel motherboard that Facebook has designed with Quanta to snap into the Open Compute chassis looks like this: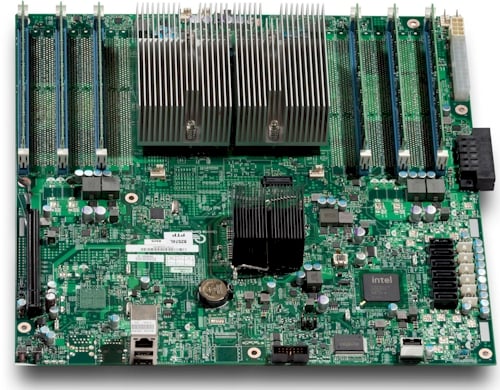 This Intel board uses the company's 5500 chipset and supports two quad-core Xeon 5500 or six-core Xeon 5600 processors; it can take any processor running 95 watts or cooler. It has nine memory slots per socket, for a maximum memory of 288GB using 16GB memory sticks. It has six SATA-II ports for linking to the drives, two external USB 2.0 ports and one internal for a flash-based hypervisor (not that Facebook virtualizes its workloads, but it could). It has three Gigabit Ethernet ports.
The AMD board is a bit beefier on the core and main memory: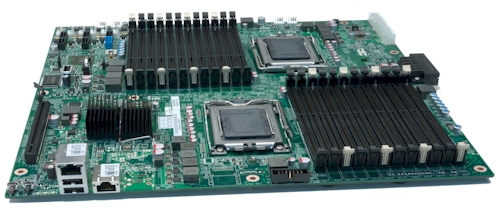 This AMD option of the Open Compute mobo can support the Opteron 6100 processors with either eight or twelve cores. Only those chips with an ACP rating of 85 watts or less can be used in the chassis. Each G34 socket has a dozen memory slots, for a maximum of 384GB of main memory using 16GB memory sticks. This mobo uses AMD's SR5650/SP5100 chipset, and offers the same six SATA ports, USB ports, and Gigabit Ethernet ports as the Intel board.
Both the Intel and AMD boards can be operated in a single-CPU mode if a job that Facebook is running needs richer memory-to-compute ratio for a server node.
The upshot of the server design, according to Frank Frankovsky, director of hardware design and supply chain at Facebook, is that the Facebook servers cost about 20 per cent less than the boxes the company was previously using and have 22 per cent less metal and plastic in them. And when plugged into the Prineville data center, these servers consume 38 per cent less power.
Similar topics