Hasselblad H4D-40 Stainless Steel 40Mp camera
Shiny special edition for the pros
---
Review When Hasselblad launched its 40Mp H4D model at Photokina, it was presented stripped of any coating, with just the bare bones of a stainless steel body on show. The idea was to illustrate the core strength of the HD4 series, but this denuded look was so striking – contemporary, yet oddly retro – that the Swedish company immediately started to receive requests from photographers wanting one.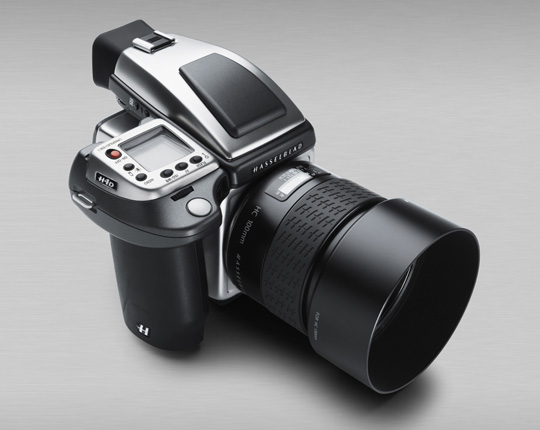 One hundred of a kind: Hasselblad's H4D-40 Stainless Steel
Hasselblad seized the opportunity and in November announced it would produce a limited run of 100 Stainless Steel H4D-40 cameras. For a collectors' item, the price tag of £16,794 with the 80mm lens or £15,594 body-only isn't an excessive mark-up on the standard model. You can still buy one too, apparently, and recently had the chance to try one of these rarities out. If nothing else, its cool metal exterior emphasises just how hardy it is. And if you leave practicalities aside, its alluring aesthetics and uniqueness combine to make just taking it out of the box a rather special user experience. And that's all before you even get to take a picture.
By contrast, the standard edition H4D-40 is available at £14,634 body-only or £15,834 with the standard HC 80mm lens. This has a vaguely institutional paint job, reminiscent of scientific instruments and wartime memorabilia. Apart from appearances, these models are the same, but if you need to be noticed – as if owning a Hasselblad wasn't enough – the company also makes a Ferrari H4D-40, with a shiny and bold red body with the iconic rampant horse logo. No doubt Stainless Steel owners will look upon the Ferrari edition as a little common, with its production of 499 units even if it does cost a good deal more at £22,800 including 80mm lens.
Even in the digital domain Hasselblad maintains its modular approach to camera construction that has made its film models, such as the V-series, so enduring. Part of the H-system of cameras, the H4D-40 is a step up from the entry-level H4D-31. The body is essentially a cube with a slightly protruding detachable digital back with a 3in, 230,400 pixels resolution, display, optics at the front and viewfinder options on top. You can even kit out the H-series for film using the HM 16-32 magazine that takes 120/220 roll film or the HMi 100 for instant film.
The H4D-40 is built around a 40Mp Kodak 33 x 44mm CCD sensor, with 1.3x crop factor. Capture rate is 1.1secs per frame and produces 3FR RAW files, Hasselblad's own lossless compression format. Handling these files is Phocus, Hasselblad's imaging software. A powerful and constantly updated workflow processing application, Phocus also has a sister app, Phocus mobile, that runs on iOS devices and allows wireless connection to the main software for browsing, zooming, rating and remote capture.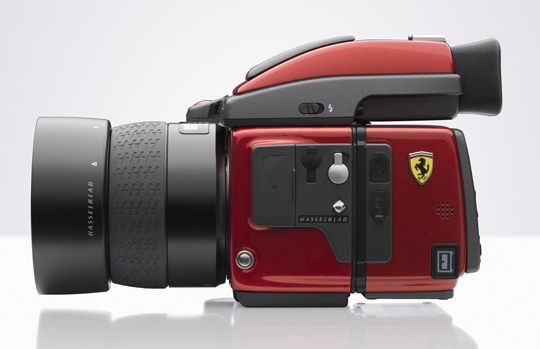 If you like special editions, then the Ferrari H4D-40 even comes in a special box
With a standard HC80 mm lens attached the H4D-40 measures 153 x 131 x 213 mm (WxHxD) and weighs 2290 g (including battery and card). It is a big and heavy affair but thanks to a large, rubberised grip, housing the battery pack, and ergonomically designed, well-placed controls the H4D-40 feels extremely comfortable in the hand and it is a piece of cake to operate.